Product Description
The Genius® Sierra 800 retractable screens are the ideal solution for enclosing a Porch, Lanai, Gazebo, garage or any opening up to 192" wide x 96" tall. Genius® retractable screens stay out of sight in their form-fitting cassette until needed. No spring cleaning! Simply pull down your new Genius retractable screen and enjoy the outdoors!
Colors available are White, Desert Sand and Brownstone. Charcoal color insect screen fabric (18 x 16 mesh) is standard.
Other options for screen mesh are:
Solar Insect Screen (Charcoal Color, 20 x 30 Mesh)
SheerWeave 1000 Fabric (Colors of White, Antique White)
SheerWeave 2360 Fabric (Colors of Oyster, Oyster Beige)
*Retractable screens are designed to support fresh, natural air ventilation and to provide protection against small air-born or crawling insects. Unlike 4-sided fixed framed screens, Genius screens retract in and out of a protective cassette so that you can enjoy an unobstructed view when the screen is not being used. The exposed surface area of the fabric is flexible. This means that during windy conditions or inclement weather, the screen material should be retracted so that the fabric is hidden away and completely protected. This screen product is not intended to be left open and exposed continually to wind, sun, rain or other harsh conditions. When the screen is not being actively used to protect people or when it is potentially windy then it should be retracted.
Before retracting the screen check to see that the edges of the screen fabric are riding completely inside the vertical guide rails. If necessary, use your fingers or a soft smooth instrument to push the edges of the fabric inside the guide rails before retracting the screen.*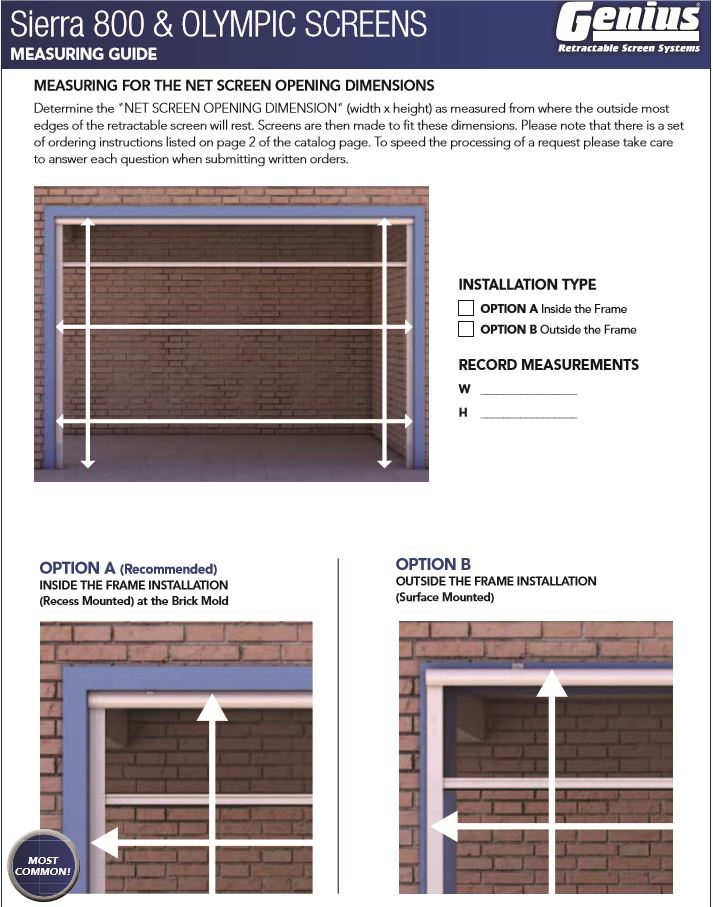 Video Coming Soon...
One of our favorite things about nice weather is getting to spend time on the patio or porch soaking in the fresh air and sunshine. However, there are a lot of things that can take away from the enjoyment of being outside. Some of those things are insect pests. Nothing puts a damper on a good time like mosquitos, flies, gnats, bees, and other insects that won't leave you, your food, or your drink alone. Instead of simply calling it quits and taking your things inside, it's time to invest in window screens for porches.
Metro Screenworks offers many types of retractable outdoor screens to allow you to find a screen that fits your needs both in terms of functionality and price point. The Genius Sierra 800 Pull Down Retractable Screen accommodates some of the biggest openings and can enhance the outdoor experience of both homeowners and restaurant patrons alike.
---

Modern society has the benefit of enjoying living without worrying about many illnesses and diseases that plagued much of civilization in centuries before. No longer do many of us have to worry about our entire city being wiped out, like towns in the Old West, nor do we have to worry about such events like the Black Plague that wiped out a sizable portion of European society.
Enhanced, Longer Life
Though there are a lot of reasons why we enjoy a better quality of life, one of those reasons is the implementation of window screens. Disease-carrying insects such as mosquitoes, food contaminating flies, and other pests are kept right where they belong — outside. Window screens have provided us with the benefit of enjoying the outdoors when we want to, safely.
Flexible Coverage Whenever You Need It
Retractable screens allow you to enjoy the same comfort that your window screens provide to your home, outside in your porch, gazebo, patio, or garage. And being as they are retractable, these roll up screens are there when you need them and then retract out of the way so they do not obscure your view.

Though it depends on the business, many patrons frequent an establishment because of the experience you offer them. Yes, they may come because you serve up the best burrito, but they come back because they like spending time at your restaurant or business. With the use of garage doors to allow for outdoor seating, it is easy for insects to find their way inside. Retractable screens can decrease guests' exposure to insect-pests, thus enhancing their experience. When you order window screens for porches, you enjoy:
Providing an enhanced outdoor experience for your guests

Custom-made retractable garage door screens

Protecting your reputation and assets

High-quality building fixtures that will last for years to come
Metro Screenworks loves working with businesses to provide them what they need to succeed. Contact to learn about how we can work with you — request a bid!

We love getting to spend time on our porches and patios once the weather warms up. However, bugs can quickly make our time outside less than pleasant. Whether it's your porch, patio, garage, or gazebo, retractable outdoor screens can provide pest coverage whenever you need it and then retract out of the way and out of sight. When you install outdoor window screens, you can . . .
Enjoy your time in any outdoor space

Avoid disease and illnesses spread by pests

Increase the value of your home

Enjoy natural ventilation
Have questions about our screens? Contact us! We would love to help you find the screens that fit your needs and budget perfectly.
---

To avoid the problem of insects and other outdoor nuisances, it could be easy to just avoid going outside altogether. It saves time and money on purchasing retractable screens. However, there is a reason why making this investment is so important — and that is not only your enjoyment, but also the health of your body and mind.

Detoxification through exhalation

Increased and more efficient digestion

More serotonin production allowing us to have greater well-being

Boosts the effectiveness of our immune system

Provides mental clarity
Going outside is the cheapest way to experience greater mental well-being and physical health — for a longer happier life. Going to the gym, eating healthy, sleeping, and avoiding destructive habits all play a significant role in our quality of health.

It's easy to assume that the air inside our home is cleaner than the air outside. We may believe this because "inside" is always cleaner and we have greater control over the state of our homes and businesses. However, sometimes the air inside is more polluted than what's outside.
Sources of indoor air pollution include:
Mold

Dust

Tobacco smoke

Cleaning products

Radon and carbon monoxide

And other substances
Though other actions may need to be taken to improve your indoor air quality, Opening up your windows and doors — while utilizing screens, of course — can significantly improve the air quality in your home.
Though clearing out indoor air pollution will significantly benefit you, going to the source — spending time outside — is one of the best medicines for the body and soul.
---

There is a reason why so many people choose us over their local home improvement stores to get their window screens, screen doors, retractable outdoor screens, and other screening products — and that is quality. With Metro Screenworks, you can always rest assured that you are getting high-quality products at affordable prices. Order online from the screen experts with over 40 years experience, or contact us!

Custom Field
Product Reviews
Easy to install, looks great (no obstruction), little of trouble though with the open and close, but nothing that stopped me from buying four more units for my house.