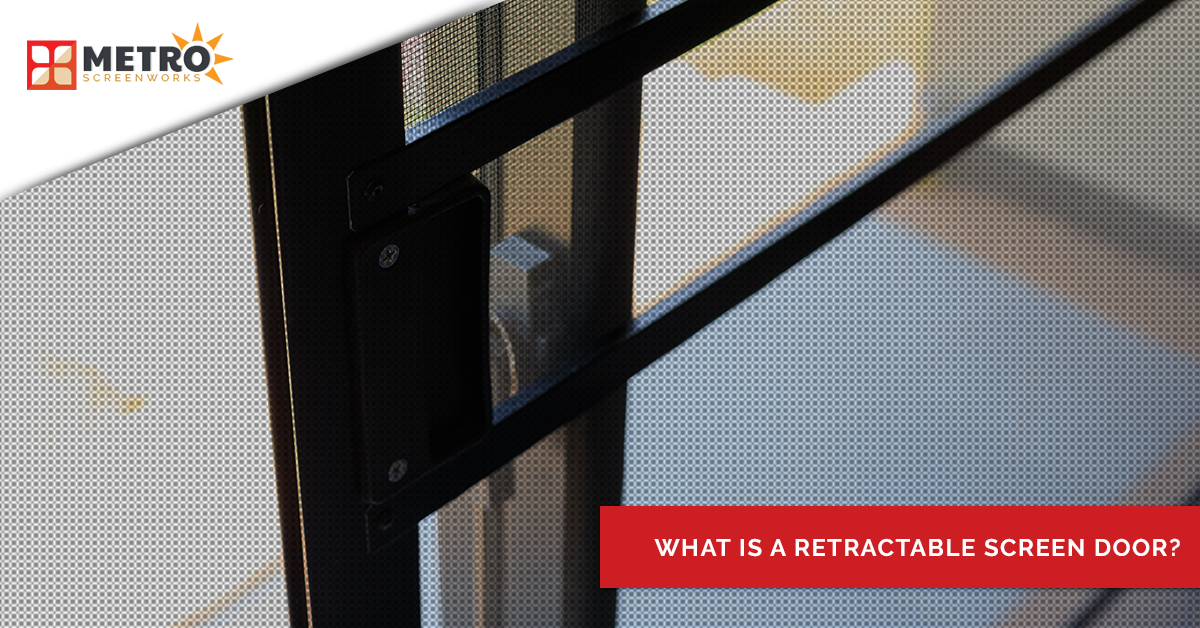 Welcome back to the Metro Screenworks blog! In our last blog post we discussed options you have for creating a unique, stylish screen door. It seems that many homeowners don't realize all the options that they have when it comes to their screens. Their screen doors really can work for them. Today, we are going to talk about retractable screen doors.
Retractable Screen Doors Versus Sliding Screen Doors
Retractable screen doors and sliding screen doors are similar, however, retractable screen doors provide more options and and aren't limited to serving one type of entry way. According to Genius, one of the leading manufacturer of high-quality retractable screen doors, retractable screens are usually retro-fitted to the window or door opening. Instead of sliding out of the way like a traditional sliding screen door, retractable screens slide inside or lay around the door. Because they roll out of the way easily, it makes it easy for retractable screens to serve non-traditional openings such as French doors. Continue reading to learn more about the advantages that retractable screens offer.
Advantages of Retractable Screens
A Clear View When Not In Use
Though we appreciate everything our screens do for us, when we have our door closed and want to enjoy the view, screen doors can impair our view. Though you can install invisible screen if you don't want to look through any screen at all, retractable screens are a wonderful option. Because they retract into your door frame, they will be completely out of the way when not in use, but of course, easily accessible when you are ready to let the fresh air in and keep the six-legged pests out.
The Screen Is Protected
Because your screen door retracts into your door frame, it is not only out of your eye line, but it is also protected from the elements. UV rays, dirt, wind, hail, and even snow can put a lot of wear and tear on screens and leave you with a screen that is stretched out and ripped. Though Metro Screenworks makes screening material that can withstand the elements, it is nice when you don't even have to worry about your screens becoming damaged at all.

Low Maintenance
Not having to replace your screen cuts down on time that you must spend thinking about and maintaining your screens. Also, if you tend to take your screens off before the winter weather comes, when you have retractable screens, you will have one less screen to take down.
Versatility
Lastly and perhaps most important is the fact that retractable screen doors provide versatility. Most sliding doors can not adequately serve French doors or other non-traditional openings. With retractable screens, you have options because they are retrofitted to the opening.
If you are interested in learning more about the advantages of retractable screen doors and how they can serve you, contact Metro Screenworks. Our screen experts would love to help you find a retractable screen door that will work for you. You don't have to put up with six- and eight-legged pests and you don't have to deal with stale air. Install retractable screen doors and experience the difference that innovative and high-quality screen products can provide.