Allergy Guard: Protection Your House From Mold & Water Damage
Lately, on the Metro Screenworks blog, we have been talking about Allergy Guard. If you are just joining us, Allergy Guard is a specialty screen mesh that, in addition to keeping the bugs out, acts as a filter for pollen, pollutants, viruses (yes, it can keep the coronavirus out), bacteria, and other harmful substances that are outside our windows. What's more, Allergy Guard also keeps out water which can protect your window frames and exterior elements from damage. However, why is this important?
Stick around on the Metro Screenworks blog to learn why protecting our windows from moisture is important and how Allergy Guard screen can help you protect your home from unnecessary damage. If you're ready to shop, visit Metro Screenworks.com and find custom solutions to your screen needs. We also work with contractors — visit our website for more information.
Water Damage & Your Window Screens
If you are like most, you have probably left your window open and didn't get it closed in time before a rainstorm or other weather has hit. Whether it was sheer forgetfulness or leaving home and not knowing there was a rainstorm brewing, the possible damage was the same: a soaked window treatment, floors, and maybe even some water damage. Water pooling in your window or in your home near your window may not seem like a big deal. However, if you are unable to completely dry your home, it can lead to mold and other irritants that can affect the comfort and health of you and your pets. Pollen isn't the only allergen that you need to watch out for.

Not only is it in your best interest to avoid water damage, it is also in your best interest to fix it as soon as possible.


Mold & Mildew
Mold and mildew can wreak havoc on your home in areas that have become wet. Mold and mildew can not only cause allergic reactions, if allowed to grow, mold growth specifically can become deadly. Black mold can exacerbate asthma and other respiratory diseases as well as other more problematic symptoms. Black mold can even lead to death if a person is exposed to it over a long period of time. It is important to fix water damage as soon as possible.

Structural Problems
Water can also cause structural problems. Not only does the water initially cause the wood to break down and soften, but mold and mildew can also weaken the structural integrity of a number of building materials. Though certain materials can recover from being wet and can even be repaired, often prolonged damage can cause damage to not only the window frame and floors, but water can also seep into the walls and create damage that we can't even see.

Electrical Problems
Though it may be unlikely that accidentally leaving your window open one time could cause damage to your electrical system, it is still pertinent to mention it. If an area of your home is severely damaged or exposed to water over a long period of time, the electrical system could become affected. Wiring can corrode, appliances can become damaged and dangerous, and if the water is near your electrical panel, it can cause major problems and pose an extremely dangerous situation.

Aesthetic Problems
No matter if the damage to your home is minimal — a slight pooling on the window sill — or extreme — interior wall damage, water can stain and damage the look of your home both on the exterior and interior depending on the area of damage. What's more, even if water doesn't damage your home, it can damage the decorative elements of your home such as flooring, furniture, artwork, instruments, carpeting, and rugs.
What Do I Do If I Have Water Damage?
If you think your home has incurred water damage, it is best to seek the help of a restoration professional. They can make sure that all damage is addressed and that no mold, mildew, and other organic material is left to grow and wreak havoc on your home and your health.
How Can Allergy Guard Help?
Allergy Guard is a specialty screen created with three layers screen:
High-strength vinyl coated glass fiber (exterior facing)
Proprietary nano fiber (same material used in N95 masks)
100% polyester mesh (interior facing)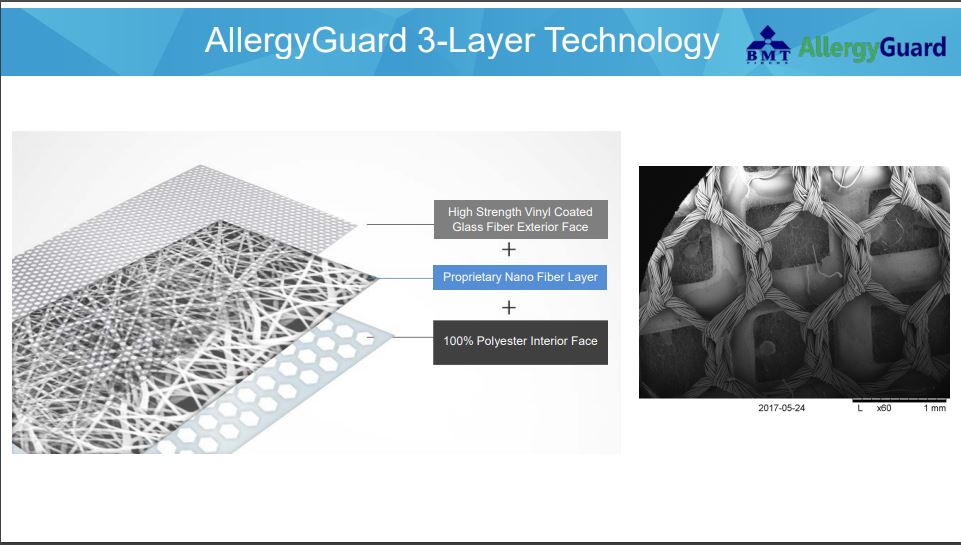 These three layers not only provide this window filtering mesh with it's increased durability but it also offers resistance to water.
Though leaving your windows open during a storm isn't a great idea, Allergy Guard screen can provide your home and window frames protection against water damage if you accidentally leave your windows open.

Allergy Guard can provide filtering benefits that flat out beat pollen screen. However, it isn't just water protection and protection against allergens and other harmful particles that this mesh can offer. Allergy Guard also offers:
Excellent air circulation - it's filtering capabilities do not impede air movement
Excellent visibility - the three layer struct doesn't obscure your vision
UV protection - you can also enjoy 90% protection against UV A and UV B rays
Heat protection - decrease interior temperatures and cooling bills
Corrosion resistance - sea breeze, fog, and moist environments will not break down screen
Easy-to-clean - can spot clean or cleanse with water
To learn more about Allergy Guard and the benefits it can offer, be sure to read some of our most recent blogs:
We also recently put out a press release about Allergy Guard and other products we offer that could provide assistance during the COVID-19 pandemic. To shop Allergy Guard, visit our website! There you can also find screen solutions for all your needs including easy-to-install screen doors, windows with standoff doors, screen material for screened in patios and more! Shop MetroScreenworks.com.