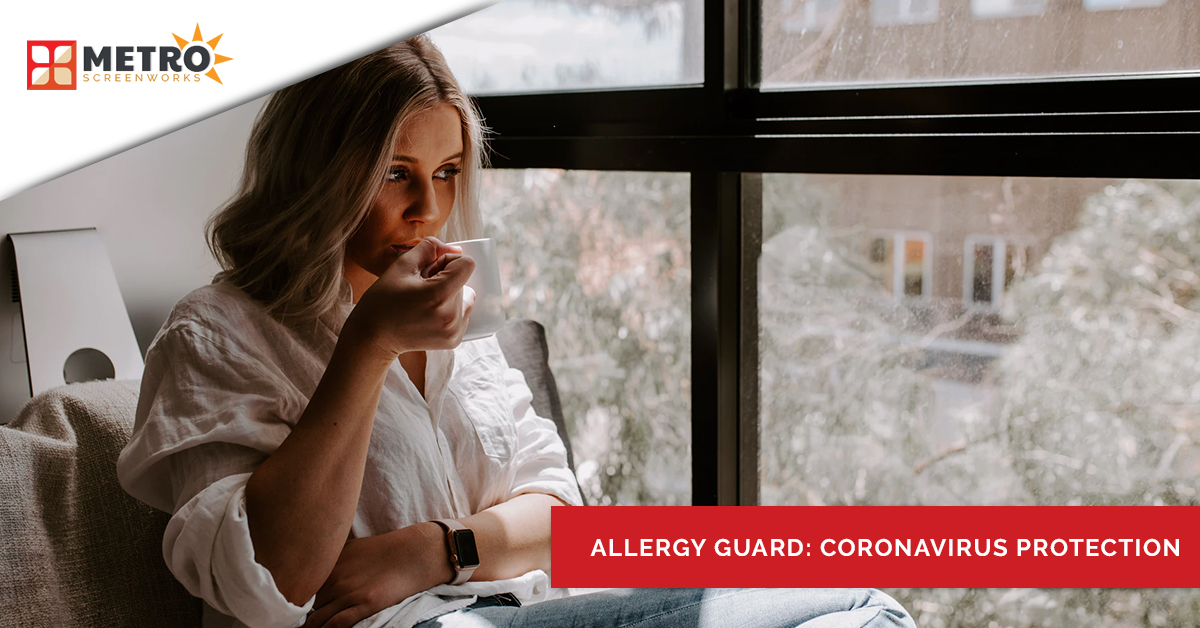 Allergy Guard: Coronavirus Protection
Welcome to the Metro Screenworks blog! Lately, we have been talking about allergies and specifically our products that we retail that can help to alleviate the effects of allergies: Pollen screen and our newest product, Allergy Guard. These window filter screen products actually work and can keep out over 50% of pollen and other allergens. However, the adding of Allergy Guard to our inventory couldn't have been more timely as it also could provide protection against coronavirus. How? Our window air filter screen uses the same nanofiber technology as protective masks used by medical professionals. We are excited about the opportunity to help protect communities nationwide against COVID-19 and to fill the gap as protective mask supplies and other necessary products may run low and be hard to come by.
Keep reading to learn more about this revolutionary product. To shop our Allergy Guard products, visit our website. We offer bulk rolls of screen as well as pre assembled window screens. These products promote air flow while protecting you against coronavirus, bacterial, allergens, pollution, and other harmful substances found in our air. Allergy Guard also provides additional benefits like UV protection and can deflect rain and moisture.
Allergy Guard & Coronavirus: How Window Air Filter Screen Could Protect Us
COVID-19 has shaken the nation to its knees as it not only has infected over 213,144 people in the U.S. alone but has caused 4,513 deaths (as of the time of writing) affecting our own neighbors and families. Additionally, it has caused many to lose their jobs, others to have their job but be out of work, and left many businesses wondering if they are going to make it through this time to operate as they used to. The situation is serious and frankly, extremely scary. Though products like Allergy Guard can't provide what we really need — a cure — it can help prevent the spread of this virus.
COVID-19 At a Glance
The coronavirus outbreak, which began in Wuhan, China, is a respiratory illness that spreads from person to person through close contact (within 6 feet) with an infected person or someone who has been exposed. The transfer of the virus usually occurs when the sick person coughs or sneezes, releasing tiny respiratory droplets. It can also happen from touching a surface or object that has been contaminated with the virus.
According to the CDC, to protect yourself from the virus, it is best to:
Avoid contact with those who are sick, and if possible, stay home
Wash your hands for 20 seconds and use hand sanitizer
Avoid touching your eyes, nose, and mouth with unwashed hands
It is important to abide by the rules and guidelines in place to not only protect yourself and your loved ones, but to also stop the spread of this disease. For more information about COVID-19, symptoms and more, visit the CDC website.
Allergy Guard: Protection Against COVID-19
Presenting Allergy Guard as a means of protection against COVID-19 isn't a gimmick or a way to make money fast. This revolutionary product uses the same nano-fiber that is used to construct medical masks. What's more, the effectiveness of Allergy Guard has been tested to reveal that it can block viruses as well as a number of other particles (see below).
Virus Blocking Technology — Better Than N95 Masks
To measure small particles, we use the measurement called microns (μm) and nanometers (nm). One micron equals 1000 nanometers. To put that into perspective:
1 meter = 100 centimeters
1 centimeter = 10 millimeters
1 millimeter = 1000 microns (μm) (also called micrometers but we will use microns)
1 micron (μm) = 1000 nanometers
Micron (μm) = Micrometer = 1000 times smaller than a millimeter
1000 microns (μm) = 1 millimeter (mm)
1 micron (μm) = 1000 nanometers
Nanometer (nm) = 1000 times smaller than a micron (μm)
1 nm = 1 billionth of a meter
Most viruses measure between 20-300 nanometers. The coronavirus measures 0.1-0.3 microns in size which is around 20 nanometers in size.*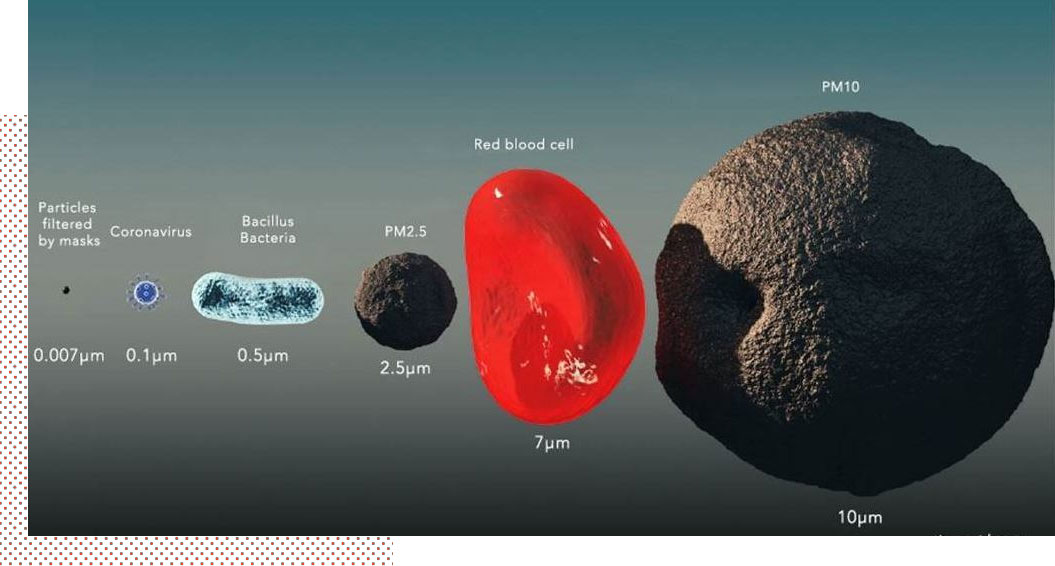 Allergy Guard: Advanced Nano Screen
Allergy Guard air filter screen can filter out particles as small as 0.02 microns making easy work of filtering out the coronavirus measuring at 0.2-0.3 microns. The typical N95 mask used as a type of respirator filters out 85% of particles measuring 0.3 microns meaning that they can effectively keep bacteria and viruses out. However, Allergy Guard can filter out even smaller particles making it an even more effective protection against coronavirus.
What this means is that Allergy Guard could be used as an effective substitute filtration medium for products designed to protect people from coronavirus. This material could be used as:
Protective masks
Workspace cubicle hanging screen curtains,
Window screen fabric
Other protective barrier applications
There is no other screening product that comes close to the effectiveness of Allergy Guard.

What is Allergy Guard?
Allergy Guard screen is a highly engineered specialty window screening material that is in a class all of its own as not only has it been found to be possible protection against the coronavirus but it beats out all other similar products on the market as demonstrated by the above test results. Allergy Guard blocks:
Coronavirus and other viruses
Bacteria
Pollen
Fly ash
Pollen
Hair
Agricultural and airborne dust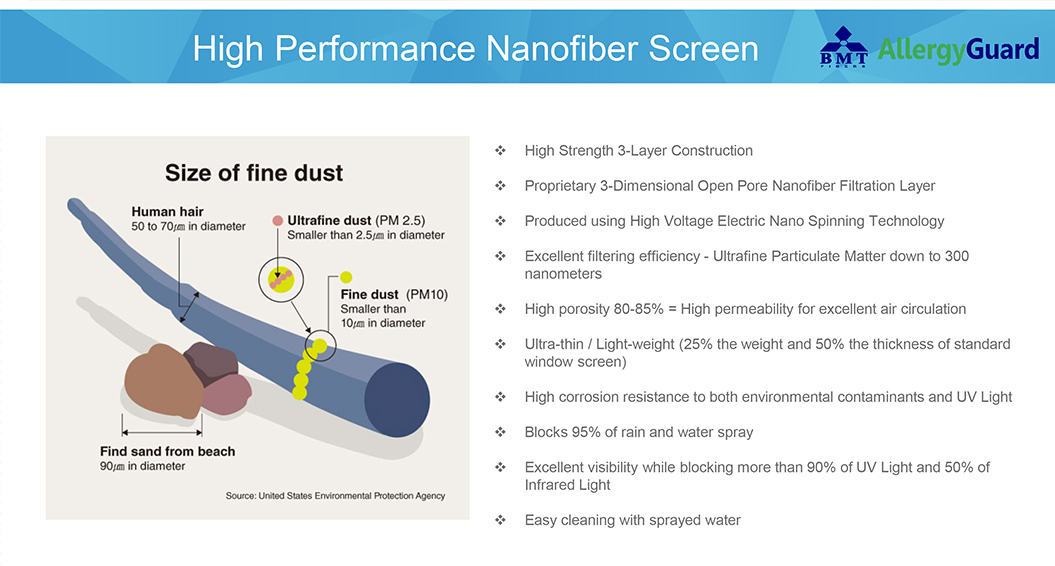 However, even though it blocks the smallest particles, it still provides 80-85% high permeability allowing for excellent air circulation. What's more, it is incredibly strong, tested to be four times stronger than conventional stainless steel window screen — it offers a bursting strength of 487 Newtons compared to 144 Newtons of stainless steel mesh.
Other Benefits
Allergy Guard provides many other additional benefits that makes it even more appealing. It can offer excellent visibility and some privacy, UV protection, corrosion resistance, blocking of rain and water, and heat protection.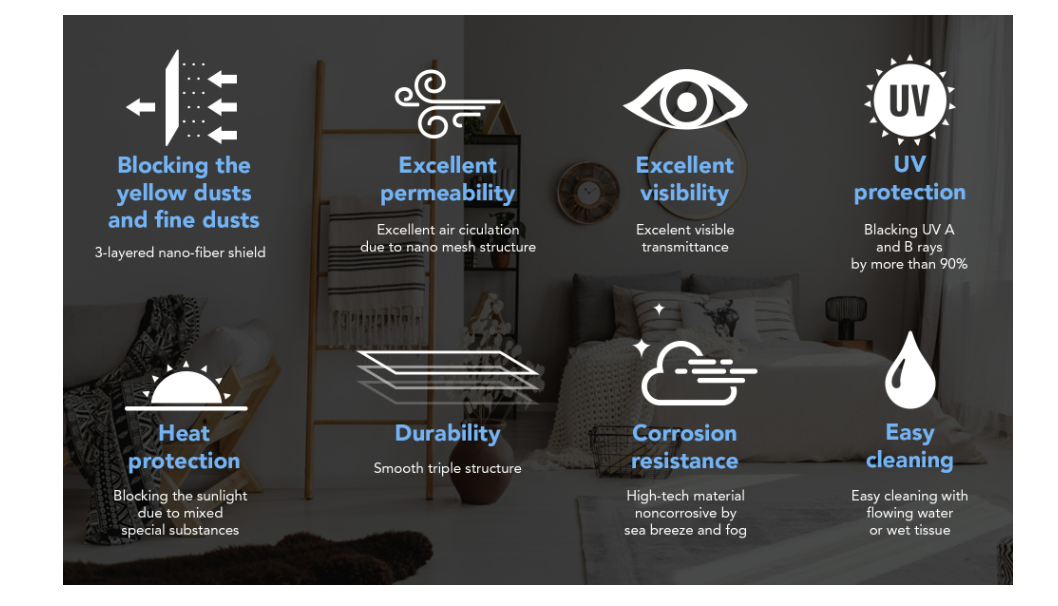 How is It Made?
The defining material of this window screen filter created by BMT is the proprietary nano fiber that is the same used in protective masks. However, it is also the construction of the screen that allows it to provide its durability and strength. Allergy Guard is constructed of 3 layers:
High-strength vinyl coated glass fiber exterior face
Nano fiber
Polyester interior face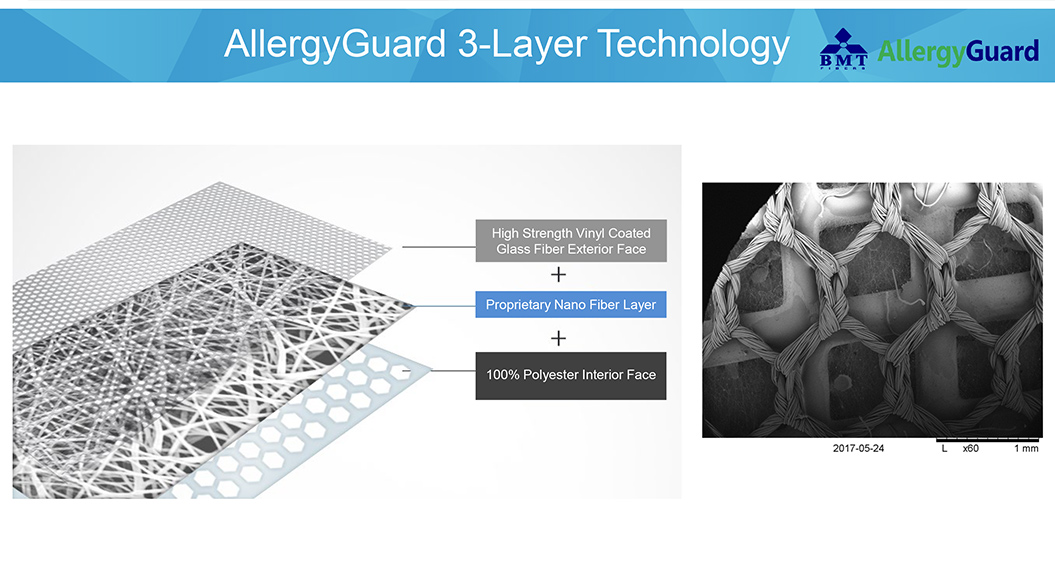 How To Purchase Allergy Guard
Allergy Guard can be purchased in bulk screen rolls in standard and max roll widths and lengths:
Standard roll width options: 47 inches, 59 inches, and custom width below 59 inches per buyer preference
Standard and max roll length: 164 feet (50 meters) and custom roll lengths per request
Standard weight 170 GSM
BMT Type 900
Allergy Guard is also available as complete window screens ready to be installed in your windows. Shop Metro Screenworks for screen rolls and window screens. Ask about our wholesale prices!
To learn more about Allergy Guard visit the Metro Screenworks website. You can also check out the BMT website. If you have any questions, do not hesitate to contact us! We would love to help you protect your family, business, medical personnel, and others from coronavirus.

*Independent cross-check / Britannica / stated Coronavirus size = 120 nm = 0.12 microns (μm)
Independent cross check / Stanford University / stated Coronavirus size = 80-160 nm = 0.08 – 0.16 microns (μm)
Independent cross-check / Smart Air Filters.com / Stated Coronavirus size = approx 125 nm = 0.125 microns average in a range of 0.06 - 0.14 microns (μm)
Other Reference // BMT File / Electron microscope photo coronavirus size = 100 nm = 0.1 microns (μm)