Posted by Metro Screenworks on Jan 13th 2022
New Year, New Screens: It's Time to Replace Your Window Screens
A new year is a great time to restart, refocus, and have a fresh beginning. It's also in many ways, a time to revisit our goals and to take inventory of all areas of life to see what needs improvement, repair, and generally speaking, more of our attention. The same can be true of our home improvement projects. Though we still have several more months of winter, now is the best time to start planning our spring and summer projects — and to order the needed materials.
Though there are many home improvement projects to start thinking about, today, we are going to focus on the project of repairing or replacing our window screens — new year, new screens!
Why Are Screens Important?
The invention of window screens is credited to the sieve company Gilbert and Bennet during the 1840s. Though commonplace to us today, window screens helped eradicate many pest-borne diseases and increased the comfort of homes, and still perform the same function for us today. Screens keep flies, mosquitos, gnats, and other insects as well as other critters out of our homes protecting us from diseases like malaria and even protecting our pets from disease like heartworm.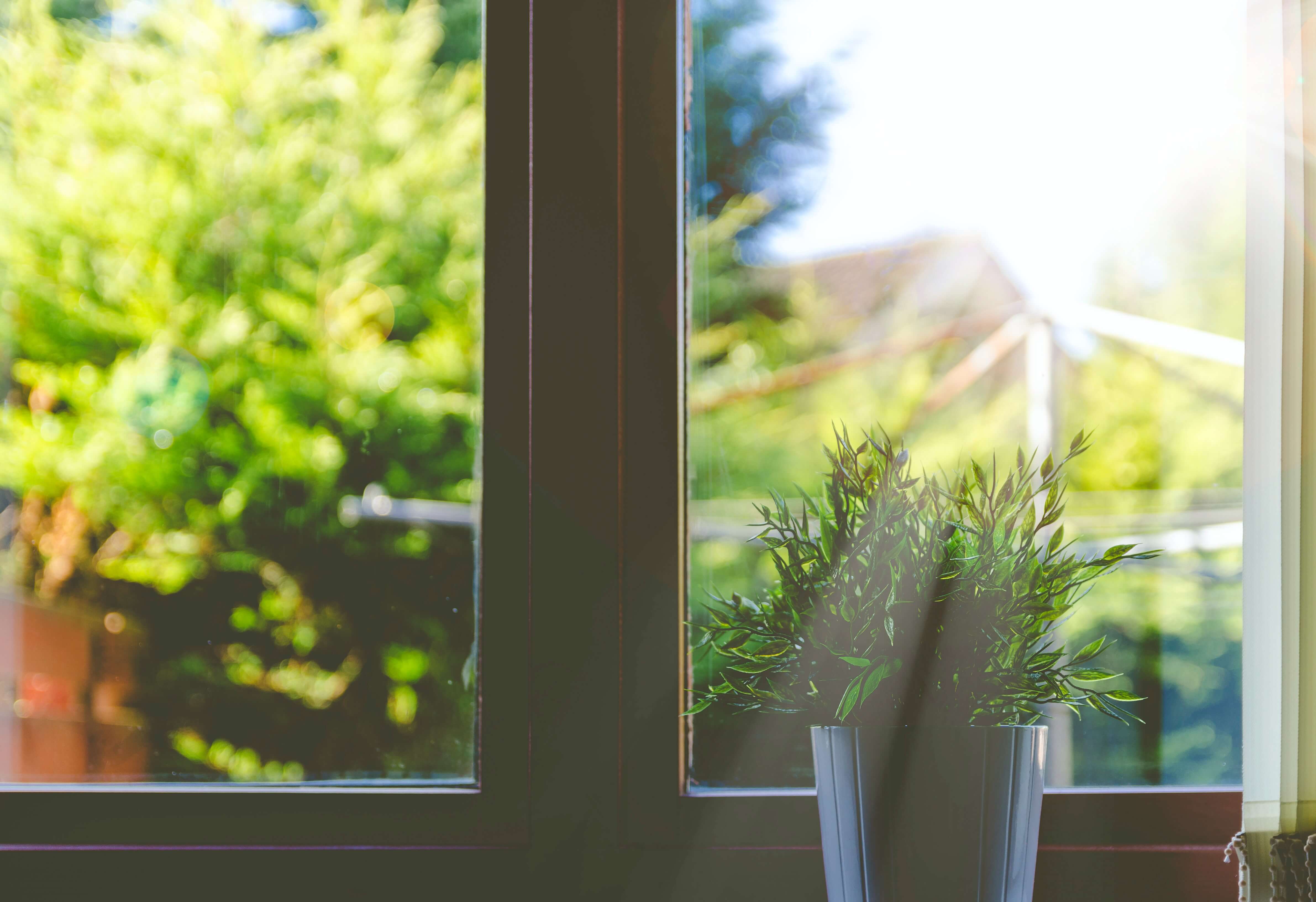 When To Replace Window Screens
Knowing when to replace your home's window screens is intuitive for most people, but here are some things to look for:
Holes
Tears
Stretching
Bent screen
Brittle mesh
If it seems like bugs are getting in, then it's time to replace your window screen.
When It's Time To Upgrade
Most standard screens are made of fiberglass. It is the most economical choice, but might not offer you the most benefits. Modern window screens can offer additional advantages beyond just keeping the bugs out. For example, if tiny insects are still getting into your home, then it may be time to replace your current screens with tiny mesh designed to keep gnats, no see ums, sand flies, and other tiny bugs out.
Here are some additional benefits modern screens can provide:
More visibility to enjoy your view (install UltraVue)
Solar protection/home energy efficiency (install solar screen)
Allergy and pollution filtering capabilities (install AllergyGuard)
Increase durability (install super screen or pet screen)
There are a lot of options when it comes to specialty mesh that offers you more benefits than standard fiberglass screen. Learn more here.
Can You Repair Torn Screens
Though there are articles out there that will tell you that you can repair your window screens using fishing line to sew the hole of your screen or secure a patch, most of the time, it's not worth the effort due to the damage or the means of repair won't really work, and if it does work, it will look unsightly. In most cases, investing in a replacement window screen is the better option.
How to Measure a Window for New Screens
One of the first things to do when you realize you will need new screens is to measure your old screen to learn what size of new screen you need. If your old screen fits properly within your window, then simply measure the height and width of your screen as well as the frame width. Learn more here.
Missing Screen? No Problem.
If you don't have the old window screen, measuring for the new one will involve a little more work but it can be done.
Step 1: Find the Lip & Measure Up
Find the lip of your window (the part that holds the screen in place) and place the end of the tape measure behind the lip and measure vertically up to the window screen channel. Record the measurement and add an ⅛ of an inch.
Step 2: Measure the Horizontal Screen Channel
Measure the horizontal screen channel (where the screen sits) and then subtract an ⅛ of an inch.
This method of measuring for a replacement window screen when the original is missing works for most window types. However, if you have any questions, contact us! We would love to help you make sure you are ordering the correct size of replacement window screen. We also offer free measuring services at our Highlands Ranch, Colorado showroom and warehouse.
Hardware Considerations
Another aspect of replacement window screens you need to consider is the hardware. Hardware refers to the mechanisms that keep your window screen in your window.
Types of window screen hardware include:
Corner spring
Pull tab
Acorn pointer
Plunger bolt
Friction hanger
Loop latch
Casement clip
Knife latch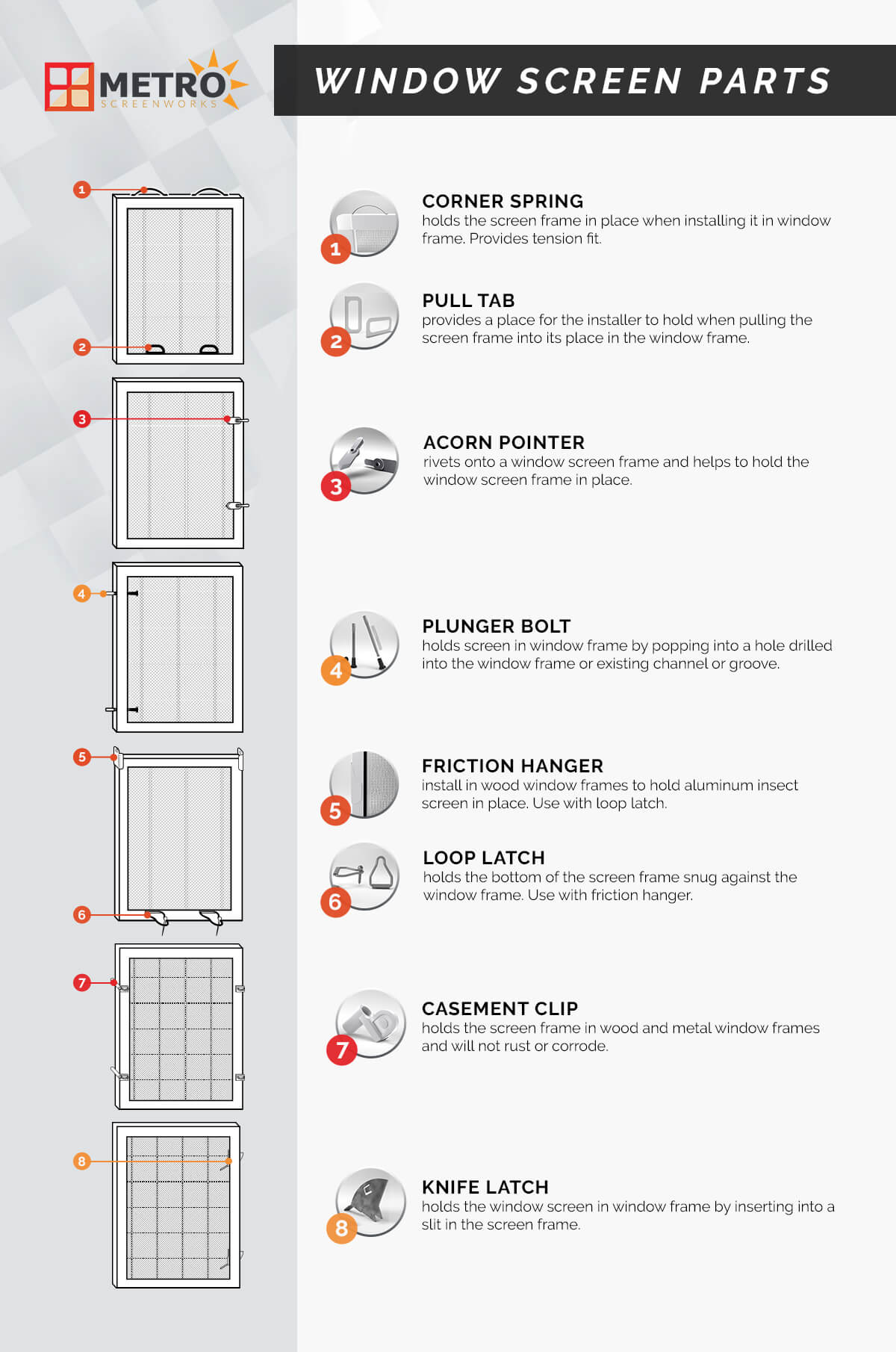 How to Replace Missing or Old Window Screens
Once you know the size and hardware type you need for your replacement window screen, you can consider other customizations. We offer a variety of product options that can allow you to get a screen that both functions and looks how you would like.
Complete Window Screens: Custom Window Screens
We offer window screens ready-to-install (without any assembly). We call them complete window screens. When you order a complete window screen you can customize:
Size
Mesh type
Frame color
Hardware
And more
Additionally, we offer free shipping when you buy 3 screens and your order will ship in 3 to 5 business days. Shop our complete window screens.
Window Screen Rolls & Components
We also provide window screen rolls as well as window screen frame, hardware, and tools, you will need to build your own screens. This is recommended for contractors, DIY-ers with multiple screens to replace and who feel comfortable with home improvement projects. However, if you wish to order pre-assembled window screens in bulk, we offer that, too!
Window Screen Kits
For contractors and DIY-ers, we also supply window screen kits that have all the materials you need to assemble your new screen. Shop our kits for homes and our kits for businesses.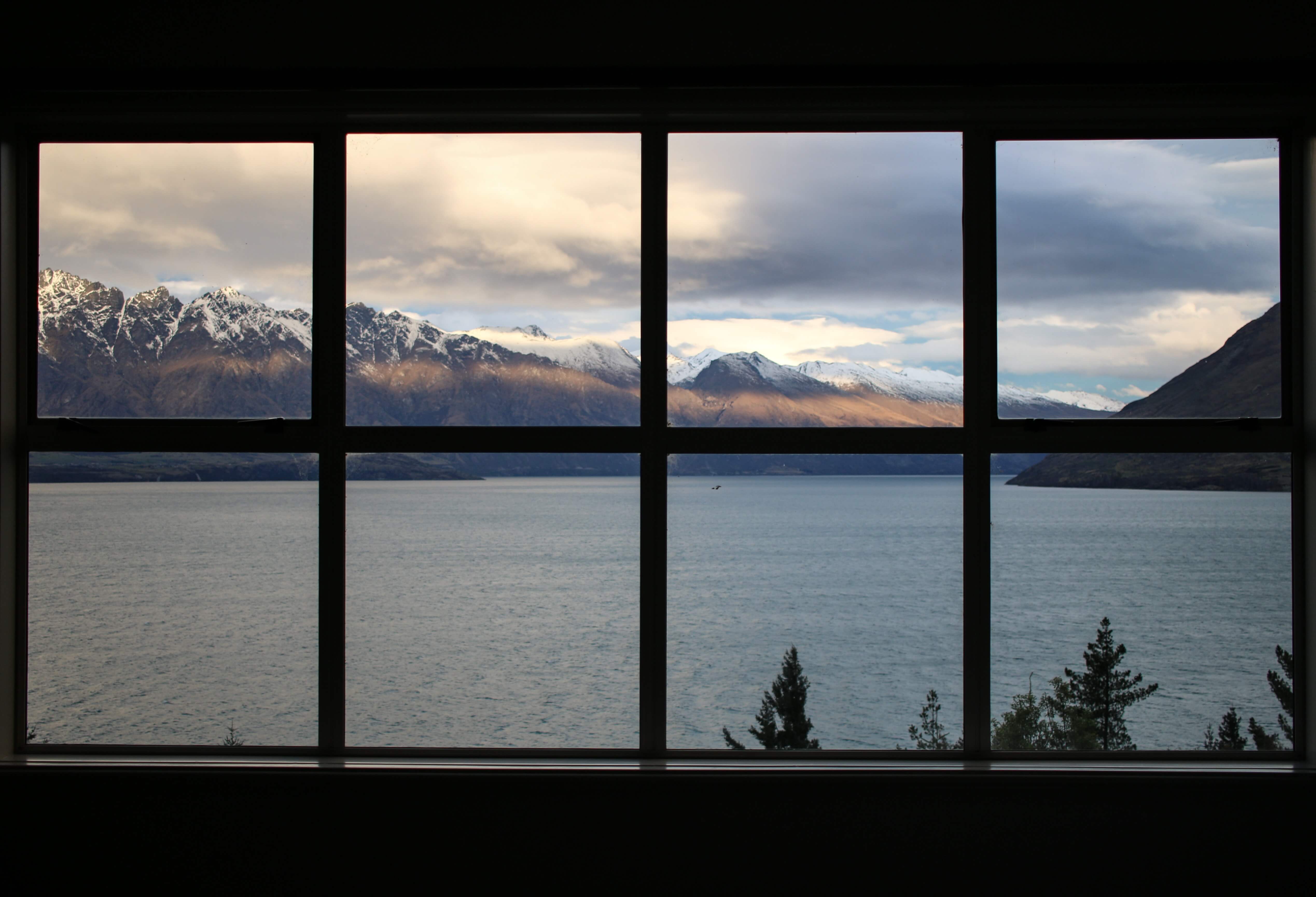 More Screen Products
If you are looking for more options for your window screens, you are in luck! Providing you options is what we specialize in here at Metro Screenworks. Other window screen products we sell include:
Have Questions?
We understand with so many choices that it can be hard to know which is the best type of window screen for your home. That is why we are here to help. We offer live chat options and you can contact us via phone, email, or a contact form on our website.
Pro Tip: send us pictures of your window or project when possible to help us see exactly what you need: a picture is worth a 1000 words.
Don't forget to get your order in now to beat the spring rush and supply chain issues!
Not sure you can afford the investment? Learn about our financing options through Affirm. Simply check out the product you want and see the payment plan options available.