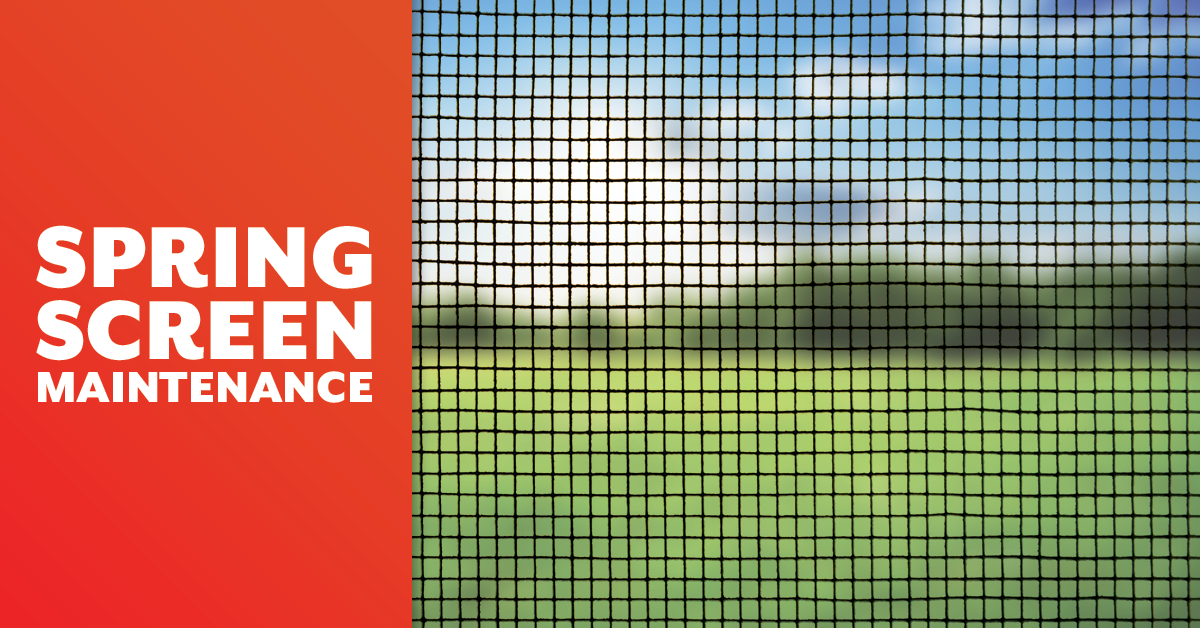 Spring Screen Maintenance
Spring is the perfect time to get your home ready for summer. Winter can take its toll on the exterior of our homes and our window screens. From the cold, to the wind, ice, and snow drifts, winter can tear, stretch, and bend our screens. However, once it seems that winter is starting to recede and and spring is on it's way, this time of year can be perfect for repairing, replacing, and giving our window screens the kind of TLC that they deserve.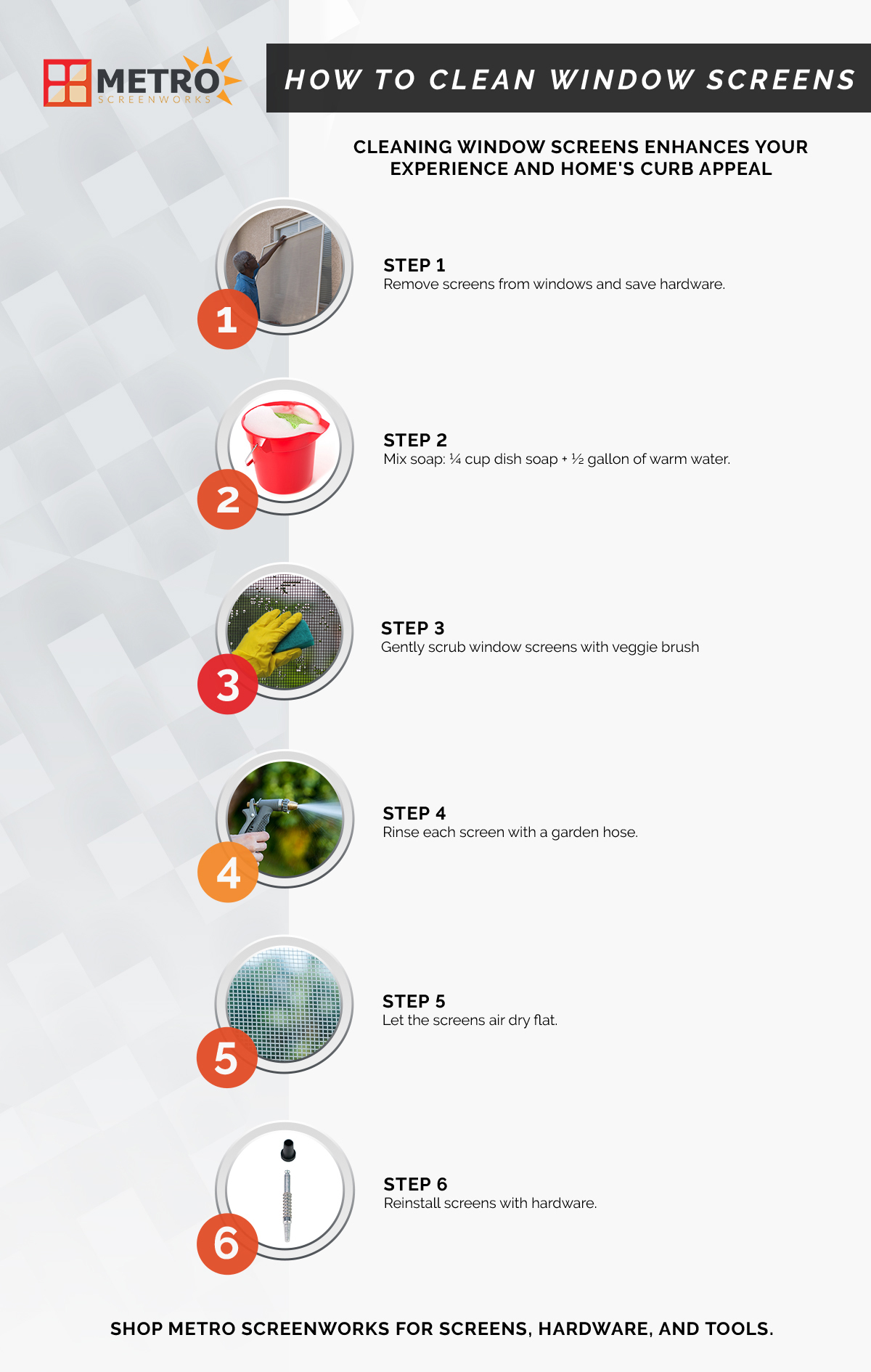 First, our window screens need to be washed. Dust, dirt, and other debris can build up on our screens especially with the ravages of winter storms. Removing dirt and other particles is important as when temperatures begin to warm up; when we open our windows to enjoy fresh air, dirt and dust can blow into our homes. Also, dirty screens don't look good.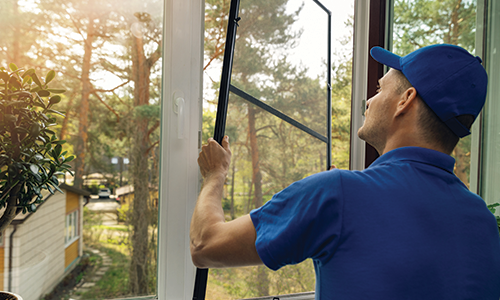 Steps to Washing Screens
Step 1: Remove screens from windows and save hardware.
Step 2: Mix soap — ¼ cup dish soap and ½ gallon of warm water.
Step 3: Use a vegetable brush to apply soap and gently scrub window screens.
Step 4: Rinse each screen using a garden hose.
Step 5: Let the screens air dry flat to avoid bending them
Step 6: Reinstall screens with hardware.

As you wash your window screens check them for rips, tears, or holes. Screens can become damaged from UV ray exposure, tree branches, pet and critter claws and teeth, snow and ice, and other factors depending on the screen material. If the tear or hole is small enough, you can often repair the screen versus replacing it. Fishing line can often do the trick: weave it into the fibers around the hole and pull them together. A patch using the same screen mesh could also work for larger holes. If the patch or mending doesn't cover the hole adequately, it may be best to replace the screen.

If your screens are beyond repair, they are becoming brittle, or aren't working like they used to, it may be time to retire your current screens and replace them. Another reason to replace your screens is to get more out of them. Window screens can do so much more for you than just keep big bugs out. Window screens can provide:
Additional durability (super screen)
Withstand wear-and-tear of pets (pet screen)
Provide solar protection (solar screen)
Air filtration for pollution and pollen (air filtration screen)
Better visibility (BetterVue, UltraVue)
Ability to keep tiny bugs out (Tiny Mesh/No-See-Um)
And more!
Window screens have advanced from just something that keeps the flies out to keeping out the elements with greater technology and capabilities to enhance your quality of life.

While you're checking your window screens, it can also be a great idea to check on the functioning of your windows. Our windows, like our screens, aren't parts of our home we think a lot about until they don't seem to be working. However, our windows do so much more for us than just allow us to see outside. Windows also contribute to:
Security of our homes
Energy-efficiency
Curb appeal
As you check on your screens make sure your windows are still doing all they can for you. Signs that windows need to be replaced include:
Locking mechanisms that no longer work
Fog or condensation between the panes
A draft (may need to fix the seal around the window)
Difficulty opening or closing the window (warped from water damage)

After you've taken care of your screens and windows, it's time to consider how screens could provide you a better quality of life. One of the best ways to upgrade your home for yourself and your family is to install a screened-in porch or a catio.
Screened-In Porch
A screened-in porch can be a great way to enjoy the outdoors no matter what the bugs outside are doing. Also, you don't have to commit to screening in your area — Metro Screenworks offers retractable screens. These screens allow you to have a screened-in porch when you want to and only then. If you're ready to commit to screening in your porch, we offer porch panel systems as well as screen rolls. What's more, we offer screen materials made to withstand the needs of a screened in porch. We also offer Florida glass screens and other materials for your pool area. Whatever you wish to create for your outdoor oasis, we can help!
Catio
Do you have a cat that loves to go outside? Or do you simply want to spoil your furry friend? Create a catio! A catio is a patio for your cat that can come in all shapes and sizes. From simply a screened in window box to a patio large enough for their human friends to join them, catios can be whatever you want them to be — install perches and other lounging spaces for your cat and play areas. Learn more about catios here or catch up on these blogs:
Springtime is the perfect time to upgrade your screens, create new spaces to enjoy fresh air, and to make your home look and function at it's very best. Stay tuned to learn more about spring maintenance on our upcoming blog and visit Metro Screenworks.com to find all the screen materials that you need.