Screen Block

The Screen Block base includes 3 retainer strips — one to hold screen, one to hold plastic film and one to cover/hide the fasteners. The 1.5 inch base mounts to existing porch framing using 2-inch screws (sold separately) spaced approximately 10...

Winterview can be used with the Screen Block and Fast Track systems to cost-effectively enclose, or "winterize" your porch during the colder months. The plastic film is 52 inches wide so be sure to measure your opening carefully...

Use Screen block screws for the installation of Screen Block. Use 2 inch screws every 10 inches or so apart to secure it on the top and bottom. The Screen Block base includes 3 retainer strips — one to hold screen, one to hold plastic...
Screen Block Screen System– Transform Your Porch into a Year-Round Living Space
Are you tired of letting the cold weather keep you from enjoying your porch space during colder months? Say goodbye to seasonal limitations and welcome Screen Block, the ultimate porch screening system that allows you to winterize and extend the use of your porch for 3+ seasons! With Screen Block, you can enjoy the comfort of your porch throughout the year, creating a cozy and inviting space regardless of the weather outside. 

The Screen Block screen system is a versatile screening and enclosure system that features two separate channels. One channel securely holds your screen and the other is designed to accommodate a unique vinyl film that keeps out cold air during the winter months. Simply install the Winterview clear PVC film into the Screen Block system to create a barrier, and transform your porch into an enclosed area without the hassle of removing your screens. 
Screen Block Specs
• Rolls Available in 25' and 8' lengths, 52" widths
• 1.5" base mounts
• Comprised of Cellular PVC
• No Mitering
• Perfect for Screening Archways
Benefits of Screen Block
Compatible with Existing Screens
If you already have a Screen Tight, Fast Track, or any other screening system installed, Screen Block seamlessly integrates alongside it. No need for extensive modifications. 
Winterization Made Simple
Simply install the Winterview Clear PVC to enclose your porch without worrying about removing your existing screen.
Easy Installation
Screen Block is designed with simplicity and efficiency in mind. Just follow the provided three-step installation instructions to transform your porch in no time. 
Low Profile System
With 100% hidden fasteners, the retainer strips and trim piece ensure a sleek appearance. 
Screen Block Resources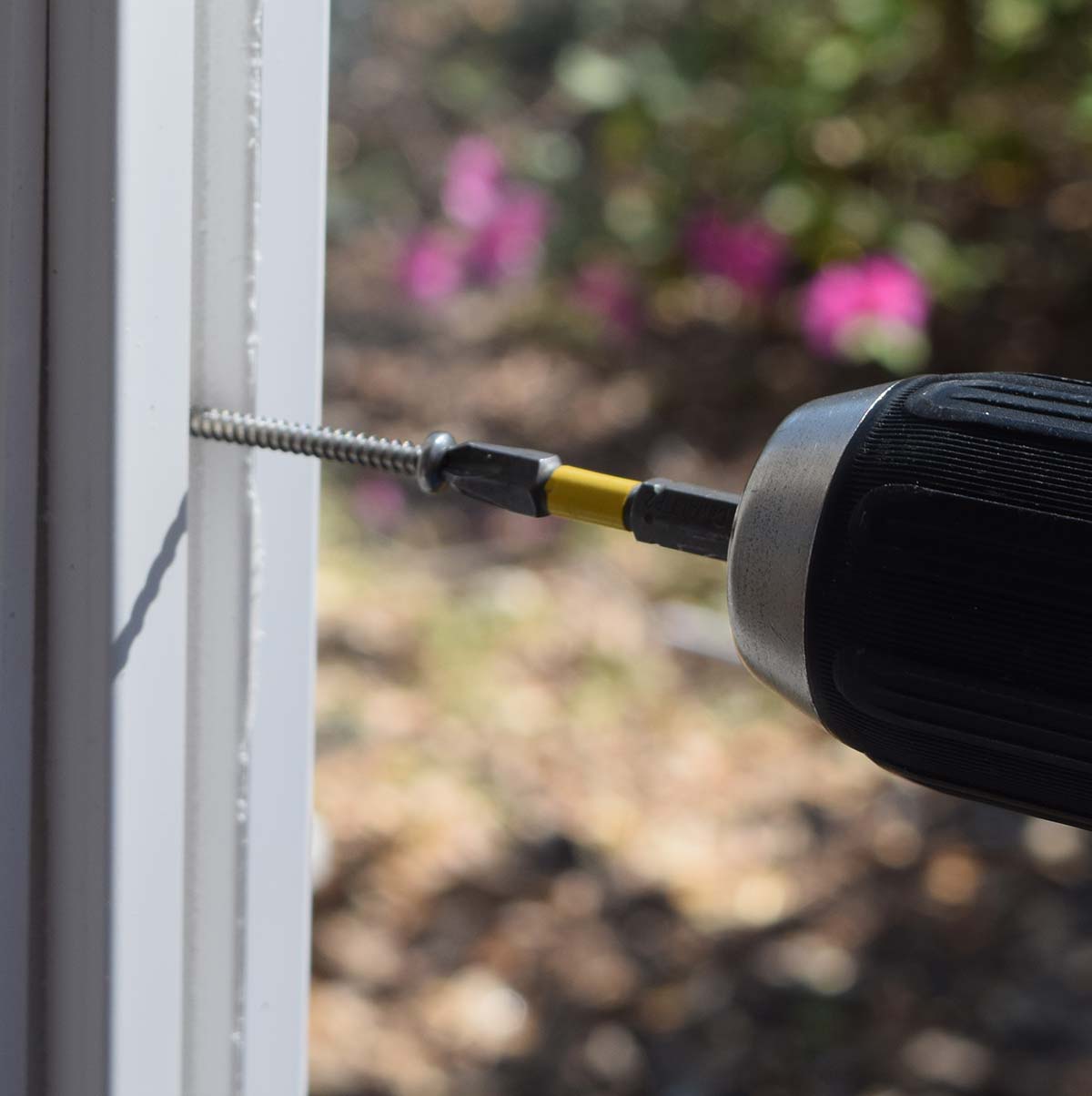 To install Screen Block, you'll need an existing porch frame in good condition. Begin by measuring the horizontal dimension of each opening you're planning to screen.
Cut a piece of the screen block PVC base to the proper length with a chop saw. There is no need to miter the corners. Just keep the base the same distance in from the edge so that all sides will line up properly. Use 2 inch screws every 10 inches or so apart to secure it on the top and bottom.
Install Screens & Plastic Film
Using the retainer strips, install your screen and plastic film. There are three strips — one is used for holding the screen, another for the Winterview plastic film and one to cover the screws. Use the retainer strip to hold the screen in place, tapping it back into the channel with a rubber mallet. Work across the top, sides and bottom, the screen will tighten as you go. Trim off any excess screen with a utility knife. Then repeat the process for the plastic film.
Frequently Asked Questions:
Can I take down and re-install the vinyl film?
•Although you can technically take down and re-install the clear vinyl Winterview film, we recommend purchasing new film since it's often trimmed very close to the retainer strip. It is difficult to re-stretch the film if it's not at least 6 inches wider than the opening.
Is Screen Block Available in Lengths Longer than 8 Feet?
•Yes, Screen Block is also available in 25 foot lengths
How Wide of an Area Can I Enclose?
•The Winterview vinyl film is available in 52" x 8 foot and 52" x 25 foot rolls. Allow at least an inch overlap on each side. 
 Is Screen Block the Only System That Can Use the Winterview Film?
•No, the Fast Track screening system features dual channels that also allows you to enclose your porch without removing your screens.
Does Screen Block Use Spline?
•No, it uses unique retainer strips to hold the screening and Winterview film in place.
How Do You Clean Screen Block's Winterview Film?
•You can get rid of rain spots and other residue on Screen Block's Winterview film by wiping it with a mild, soapy water and rinsing it with a hose.