Window Screen Material: You've Got Options
Have your window screens been damaged or are you looking to upgrade your screens? Are you building, remodeling, or want to add a screened in porch to your home? Regardless of the task ahead, Metro Screenworks would like to help you complete your project by sharing with you all the options of window screen material available. We hope not to overwhelm you, but to show you that you can truly have a screen that works for your needs and lifestyle.
Pet Screen
Have you ever thought that you can't have a screened in porch or that you're just going to have to deal with ripped up screen doors or window screens due to your furry friend or rambunctious family members? Say goodbye to those thoughts and let us tell you about pet screens. Pet screen is one of the most durable of the window screen materials on the market! It is durable vinyl-coated polyester that is made to be seven times stronger than standard window screen material, while still providing excellent visibility and airflow. Metro Screenworks offers pet screen in black and silver, as well as a variety of other colors! Pet screen is available in rolls or as an option in our custom window screens, screen doors, and more. Want to screen in a porch? Pet screen can provide the longevity you need. Read more about pet screen here!
Super Screen
Super screen is one of the best options of window screen material that will meet a variety of screen needs that you may have. Like pet screen, super screen can withstand the damage that our pets can cause our screens, as well as that of a hail storm. Super screen can also offer good visibility and airflow, as well as protection from insects and the sun's UV rays. Super screen is the window screen material with the best value for durability and is available in roll sizes and our custom solutions. Shop our super screen here!
Solar Screen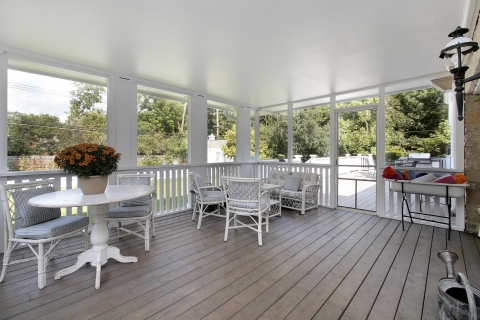 Speaking of screen that offers solar protection, Metro Screenworks also offers solar screen! The sun can damage and wreak havoc on furniture and our home's interiors and can increase our energy bills significantly. When you install solar screen you can receive up to 90 percent protection from the sun's UV rays. If you'd like to protect your home and cut energy costs, solar screen is what you need. We sell solar screen window screen material in bulk and in our custom screens! Solar screen is available in strengths of 65 percent, 80 percent, and 90 percent. Learn more about our solar screen here!
Pollen & Dust Filtering Screen
Maybe you don't have a problem with the sun, but you feel like you can never open your windows, because every time you do, and especially during specific times of the year, you suffer from your allergies. Replace your current window screen material with our pollen and dust and pollen filtering window screen! This screen is a combination of coated polyester and other fibrous material that attracts pollen spores and traps them in the screen. Say goodbye to high energy bills because you can never open your windows for some fresh air. Metro Screenworks offers dust and pollen filtering screen in bulk rolls and in our custom screens! Learn more about this window screen material here!
No-See-Um Screen
Are your tired of the tiny insects that somehow seem to make their way through your screen and into your home or porch? Maybe it's time to install our insect mesh! Insect mesh, also known as no-see-um window screen material will keep the tiniest of insects out, while still providing visibility and airflow. No-see-um mesh is also a great way to add privacy to your patio or porch! We offer insect screen in a variety of sizes. Shop here!
UltraVue Screen
Are you frustrated with how most window screen material seems to ruin a good view? Are you tempted to remove your screens all together? We have another solution for you! Try our UltraVue window screen material! Phifer created a window screen material that gives you the visibility of a window without screen while still providing protection from insects. This window screen material's combination or protective vinyl coating and fiberglass screen makes this window screen material a solution that will last. We offer UltraVue in a several lengths and sizes. Learn more about UltraVue screen here!
BetterVue Invisible Screen
BetterVue like UltraVue provides exceptional visibility, but is made slightly stronger for openings larger than your typical house windows such as porches, patios, and more! Charcoal is our most popular color of BetterVue. Easily install BetterVue in your home to improve your view and curb appeal of your home! Learn more about BetterVue window screen material here!

SeeVue Stainless Steel Screen
Like the sound of greater visibility of the UltraVue or BetterVue window screen material, but not sure if it can hold up to the wear and tear of your climate or home's environment? Phifer also offers SeeVue as the solution to your custom window screen material dilemma. Though this screen can not be used in coastal areas, it is highly recommended of all other uses including window screens, porches, and patios. Find out more and how to order it here!
Copper Screen
Copper screen is unique for it's due to it's color. This window screen material, when first installed is typical a shiny copper color, but then fades to a beautiful dark bronze color. Copper screen can be used in a variety of climates, but is especially recommended for coastal areas. Get protection from insects and have a unique look for your home with copper wire window screen material. We offer copper screen in a variety of bulk roll lengths and widths and is made of 99.97 percent copper with a mesh count of 16 x 16. Learn more about copper screen here!
Florida Glass
You may ask, "why do we mention "glass" when talking about window screen material"? Florida glass can be an essential part to making your custom screen project successful. This window screen material isn't glass or screen. This laminated material is the solution for keeping glass clippings, water, and other debris from your lawn or surrounding vegetation out of your porch area. Install Florida glass around the edge of your screened in porch. We offer a variety of options when ordering Florida glass. Read more here!
Stainless Steel Security Screen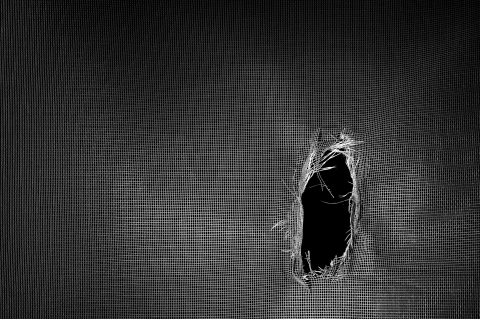 Security screen has been used in government housing, because of it's durability and that it's the toughest screen material available. Security screen can withstand thrown rocks and vandalism so you can have extra security for your home or building; this window screen material eliminates the need for constant rescreening and will need special framing when installed. Gain peace of mind with security screen. Metro Screenworks offers this window screen material in several widths and lengths. Find out more here!
Pool & Patio Screen
Are you looking for a custom screen solution for your pool or patio area? Our pool and patio window screen material works as a great solution for large custom projects such as screening in a porch or patio. This window screen material is extremely durable and comes in charcoal and gray and in a few lengths, so you can use this screen to accomplish whatever you need. Find out more of what Metro Screenworks has to offer here!
Aluminum Screen
In addition to our specialty screen we also offer aluminum screen. This window screen material comes in black, silver, and charcoal and is extremely durable against rust. Though silver is the most economical, charcoal and black screen eliminates the glare of the sun. Learn more about and shop our bulk options of window screen material here!
Fiberglass Screen
We also offer traditional fiberglass screen. It is our least expensive option of our window screen materials and functions well for many applications. Our fiberglass window screen material comes in gray and silver, and though it's made of high-quality materials, we suggest that if you have pets or children to use one of our window screen materials made specifically for extreme durability. To learn more about our fiberglass screen, go here!
Metro Screenworks and Our Window Screen Material
We realize that we just gave you a lot of information about all the options you have when you need to re-screen your replacement window screen frames and for all other custom applications. Still unsure which window screen material would suit your needs? Contact us! We'd love to help you find the best option for your project and budget. Contact us today!
Metro Screenworks offers a variety of custom screen solutions including screen doors, window repair tools, and more. We have been selling high-quality windows screen material, sliding screen doors, custom screen solutions, and more since 1979. All of our products are made in the U.S. and are guaranteed. We are located in Denver, Colorado and offer same day shipping. We strive to help all of our customers accomplish their custom screen projects effectively the first time, so they can make their dream a reality.

Enjoy our blog? Stay tuned from more about window screen material, screen doors, and making your custom screen projects a reality!