If you've been keeping up with the Metro Screenworks blog, you may see a similar theme throughout the last few blog posts: plan and order ahead for spring home improvement projects! Why? We want to help ensure that you get the materials you need to start your project on time. Waiting till spring to order your materials could delay your project due to the high volume of orders during that time and the possible effects of supply chain issues.
One popular home improvement project that many love to start as the winter weather begins to clear is creating a porch enclosure that can be enjoyed three or four seasons of the year. Today's blog will help you jumpstart your project so you can get your order in and make your project a success.
Decide the Type of Porch: Three or Four Season Room
One part of the planning process is to decide if you want a three season or four season screened-in porch and sunroom. Deciding this will determine the screening method and the materials you will need to order: if you want to enclose your porch to be usable during the winter months, the construction of it will be different than one you only have access to during the warmer months of the year. To learn more about these two types of porch enclosures, read our blog post "How to Create a 3-4 Season Sunroom."
Choose Your Porch Screening System
There are many ways to create a porch enclosure. In years past, many DIYers would create wood frames, and staple mesh into the frames to create a porch enclosure. This method makes it difficult to create an aesthetically pleasing enclosure, and repairs were expensive and cumbersome.
Today, there are screening systems that are affordable, easy-to-use, and help to create a lasting enclosure with excellent curb appeal.
Porch Screen Panels
One way to create a screen porch is with Metro Screenworks porch panels. These are made-to-size and are installed into the framing of your enclosure. They are designed to be removable and can be replaced with tempered glass panels (we offer these too) during the winter months, or they can be fixed in place with screws. Our porch panels are made with the same frame that we use for our screen door to ensure durability. Other benefits include:
½ inch thick aluminum frame for increased durability
Specialty mesh options
Can be permanently installed with screws, or temporarily installed in the jamb between stops or with casement clips
Multiple frame colors - black, white, almond, beige, bronze, mill (silver), and others
Made-to-size
Manufactured in our Denver-based warehouse
Shop our porch screen panels.
Retractable Porch Screens
Retractable screens are perfect for those who want flexibility. We offer retractable screens that can be used in place of fixed panels as well as ones that can function as the walls of your porch enclosure itself. The above video highlights our ZIGZAG retractable porch screen that operates vertically but also we offer others that retract vertically such as the Sierra or Olympic screen. The benefits of retractable screens include:
Custom sizes
Manual or remote operation
Elegant design that enhance aesthetics
Reliable performance
Increases home value
Provides insect protection
Shop our retractable porch screens or learn more about the benefits of retractable screens.
Retractable Porch Windows
Additionally, we offer retractable porch windows – Genius Scenix Porch Windows (also called Expanse Porch Windows) that provide the option for screens or windows any time of year without the need for seasonal installation. Other benefits include:
Easy-to-operate, dual-sash window design
Has stronger/safer tempered glass panels (4x stronger than regular glass)
Glass-tinting upgrade available in gray and bronze tint (76% protection)
Easy-to-install and DIY-friendly
Provides insect protection and privacy
Weatherstripping and interlocking rail provides a tight seal
Locks for added security
Available in standard and custom/extra-large sizes up to 6' x 8'
Four colors available - black, white, sandstone, and brown
Shop our retractable porch window screen combination.
Fixed Porch Screen Systems
Our fixed porch screening systems are perfect for DIY-ers of all levels as they are easy-to-use, require few tools, and easily create a finished look. They are also one of the most affordable options. Most of these systems are designed for porches that will only be used during the warmer months of the year as they can not be enclosed during the winter – except for the Screen Block system.
Shop all of our porch screening systems and/or read more below.
SCREENEZE
This system is installed on an existing framing structure and provides nearly limitless design possibilities. Other benefits include:
Vinyl and aluminum screen porch system
Available in 8' lengths (80 total lineal feet)
Low-profile frame for the best view possible
No spline needed — simply snap into place!
Simple re-screening and repair
Multiple color options - white, sand, bronze, and clay
Unlimited possible project designs
Shop SCREENEZE.
Screen Tight System
Screen Tight is also installed on an existing framing structure but differs from SCREENEZE in that it does require spline for installing the screen. It is easy-to-install, cost-effective, and provides longevity.
Easy-to-install for DIY-ers and contractors
High-quality and cost-effective
Simple re-screening and repair — no more staples!
Multiple colors available - white, gray, beige, and brown
Weather- and UV-resistant vinyl — will not corrode
Integrates seamlessly with MeshGuard – a guardrail infill system
Shop Screen Tight.
Screen Tight Mini Track
Like Screen Tight, Mini Track is installed on an existing structure and screen mesh is installed using spline. However, Mini Track is made of aluminum versus vinyl and is ultra-low profile.
3/4-in x 3/4-in track, 8-ft lengths — ultra low profile
100% hidden fasteners for a sleek look
Several powder-coated frame finish options - white, dark bronze, and black
Install on new and existing porch frames
High-quality and cost-effective
Simple re-screening and repair — no more staples!
Shop Screen Tight Mini Track.
Fast Track
This system is made of aluminum like the Mini Track system but it does not require an existing framing structure: the system snaps together to create posts and rails. Other benefits include:
Install on existing or non-existing porch frames
1" x 2" channels, 8' lengths
High-quality aluminum
White, dark bronze, and black powder-coated finishes
Mate/combine channels to create porch rails and posts
Shop Fast Track.
Vinyl Screen Wall
The Vinyl Screen Wall system is like Fast Track in that it does not require an existing porch structure but snaps together to create the posts and rails of the porch enclosure. Other benefits include:
Create posts, rails, and other elements
Can be installed on the interior or exterior of your porch
Tested for weight- and weather-resistance
Unlimited screening configurations
Hidden fasteners
Shop Vinyl Screen Wall.
Screen Block
Screen Block is installed on an existing porch structure and provides the means to install screen and insulating plastic called Winterview. The screen or plastic have separate channels so both materials can be simultaneously installed, and they are installed with a block that fits into a channel.
Perfect for three-season porches
Two systems in one
Simple winterization
Hidden fasteners for a clean look
Shop Screen Block.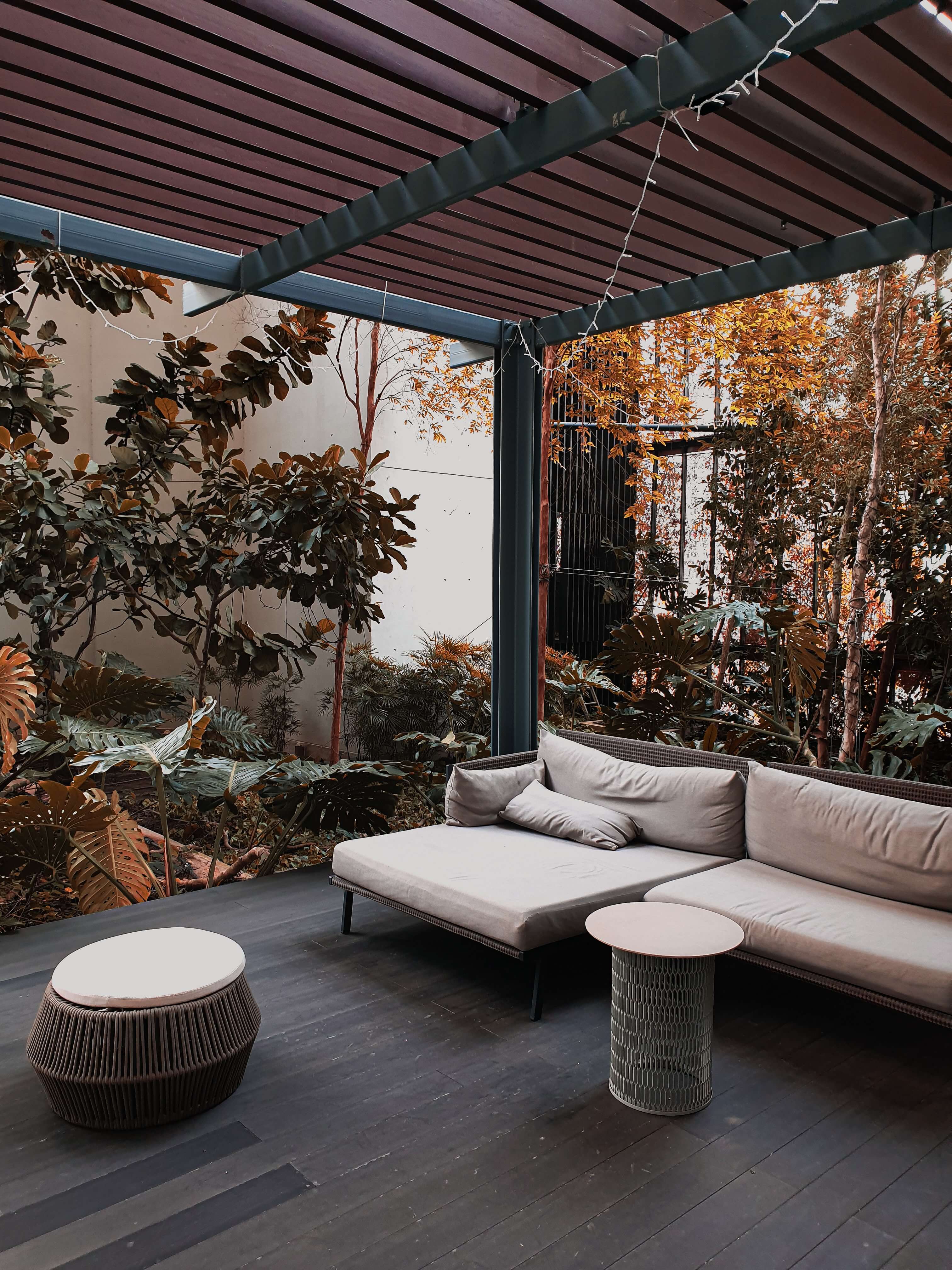 Think About Function & Comfort
While you are considering all aspects of the project, you should also think about the purpose of your porch and its comfort level. Porch enclosures can serve as additional entertainment space, an outdoor lounge area, a hobby room, and more. Also, porch enclosures can provide comfort for warm and cold weather depending on when you wish to use it. Fixtures such as overhead fans, transoms for cooling, and infrared heating can also be used to increase the creature comfort of your porch. Learn more here.
Do You Need a Permit To Enclose a Porch?
Other aspects to consider include needed permits for installing your porch enclosure. Some cities require or highly suggest building permits when altering your home with a porch enclosure. Most cities should specify these parameters online.
Are You Ready to Get Started?
Are you ready to get started or have questions? We offer easy online ordering and are available via chat, phone, and email to answer your questions to help you make your project a success. Contact us here! You can also view many of our products before you buy when you visit our showroom in Highlands Ranch, Colorado – there we also offer free order pickup but ship nationwide for your convenience. Don't forget to get your order in now to beat the spring rush and supply chain issues!
Concerned about cost? Check our financing options with Affirm when you shop our products: simply check out the product you want and see the payment plan options available.
Want to learn more? Read our blog and check out our YouTube – like and subscribe!