Posted by Metro Screenworks on Feb 8th 2023
No-See-Um Screen vs Regular Screen
Whenever you start a new screening project, you are faced with the decision of what kind of screen mesh to use. Do you want to prioritize visibility or durability? Which color finish best matches your home? Are you in need of solar protection or allergy filters?
If your property is often plagued by insects, one of your primary concerns should be determining what level of protection you will need for that.
Is standard fiberglass screening enough, or will you need a particular type of no-see-um screen, also known as tiny mesh or micro mesh? In this post, we aim to help you better understand the different types of tiny mesh and their uses so you can make an informed decision for your home project.
What is a no-see-um screen?
While all of our screens provide insect protection, there are some types of bugs that are small enough to crawl through them. Though all of these bugs are often called "no-see-ums," the name actually refers to a specific type of tiny, blood-sucking, biting fly.
Other tiny insects that can cause this problem include gnats and sand flies. Coastal homes are most likely to have issues with these insects, which makes them the most likely to benefit from screen for no see ums.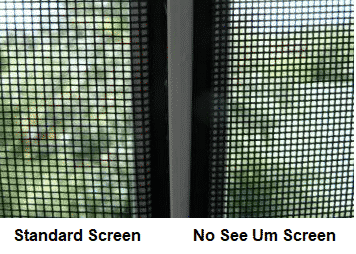 Types of No-See-Um Screen
We have several different options for those in need of no-see-um screening:
No-see-um screen vs regular (fiberglass) screen
So is no-see-um screen a better choice than standard fiberglass for your next project? If most likely depends on what level of protection you require. Both screens can be used for windows, pool cages, patios, and screen doors, and both offer some level of insect protection. For a better idea of your options, breaking down the pros and cons of each mesh is always a good first step.
Fiberglass Screen Pros and Cons
Fiberglass screen mesh is the most commonly used screening available, as it's flexible and inexpensive.
Fiberglass Screen: Pros
Insect protection against larger bugs
Economy option
Easy to install
Fiberglass Screen: Cons
Standard durability
Only protects against larger insects
No-See-Um Screen Pros and Cons
If your home is often a target for no-see-ums, sand flies, gnats, or other tiny insects, you may be thinking about installing no-see-um tiny mesh. No-See-Um mesh is a popular choice for homes in low marshy or coastal areas, where these tinier gnats often thrive.
No-See-Um Screen: Pros
No-See-Um Screen: Cons
More expensive
Slightly reduced visibility
Learn more about your screening options
Deciding on the mesh that best suits your home's needs can be a tall order. Fiberglass and no-see-um meshes are just a couple of the dozens of screening solutions we offer.
Our experts are here to walk you through our products and help you select the best option for your home improvement project. Call Metro Screenworks today, or visit our showroom in Highlands Ranch, Colorado!