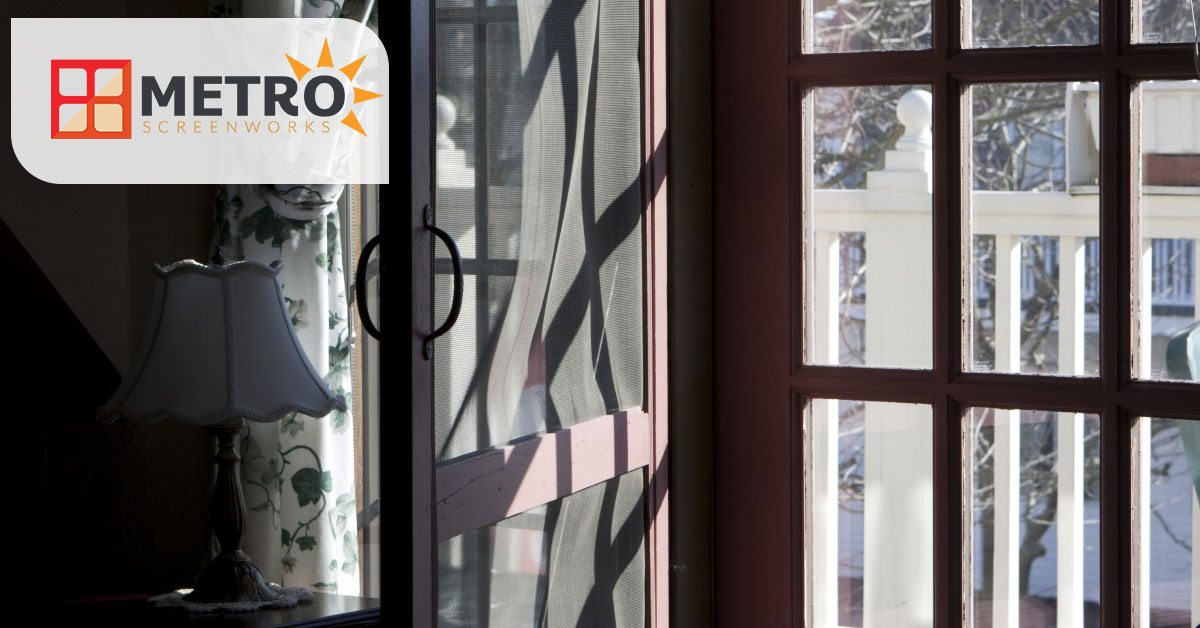 Custom Screen Doors Options
Did yours screen door get damaged or are you looking to upgrade your sliding screen door? Maybe you're looking to upgrade your screens or wish you had a sliding screen door for your French doors. Whatever your need is, we at Metro Screenworks have a variety of sliding screen doors and custom screen solutions. Sometimes it's easy to assume that your only option is a basic screen that hardly serves your purposes well. Here are some of the sliding screen door and other custom screen options Metro Screenworks can offer you when you shop our inventory online.
Sliding Screen Doors
We carry classic sliding screen doors both assembled and unassembled to fit your budget. You can buy a single sliding screen door or sliding screen doors in bulk! All of our screen doors are made with the highest quality materials, as with all of our custom screens. We have screens to fit any budget from low end economy screen doors to a high-end heavy-duty sliding screen doors. To find out more about the screens we offer and shop, go here! To shop our bulk sliding screen door options, go here!
French Door Screen
Do you have a french door, but frustrated that you can't open them during certain times of the year due to pests? Metro Screenworks offers French door sliding screen doors! Due to design elements specifically for French door sliding screen doors, both screens meet in the middle to give you a practical, easy to use means of getting fresh air no matter what kind of door opening you have. Interested in having it all with French doors and a French sliding screen door, shop and learn more here!
Retractable Screen Doors
We also offer retractable sliding screen doors, because when you shouldn't have to choose between the convenience of having a sliding screen door and the other convenience of being able to open your door freely without your sliding screen door being in the way. We offer our retractable screens with several color options for your frame, as well as the opportunity to upgrade your mesh to a custom window screen material that can give you the durability that you need with Super Screen or Pet Screen, provide protection from the sun with our Solar Screen, or provide ultimate visibility with BetterVue window screen material. Want to know more about our retractable screen doors and all the options available to you? Go here!

Security Screen Doors
Metro Screenworks, in addition to providing high-quality sliding screen door options, we also offer hinged security screen doors. Security screen doors offer both, as you may have guess extra security than a normal sliding screen door, due to the extra tough screen used in our security screen doors durable frames. Our security screen will not tear when a rock is thrown and can not be cut by vandals. Security screen doors also offer privacy due to the structure of the stainless steel mesh. Still feel secure in your home and get some fresh air with our security screen doors! For more information about our security screen doors and options available, go here! We also offer French door security screen doors!
Custom Screen Doors
Not sure what kind of screen door you need or don't feel that any of the above options work for you? No problem call us! We offer a variety of custom screen options and can assist you in deciding what kind of sliding screen door will work for you! If you'd prefer we also offer high-quality screen door parts and kits and the necessary tools to repair and install your sliding screen door. Shop for sliding screen door track, other components, and screening tools online!
Don't Forget About Screen Options!
When you're thinking about the kind of screen door you'd like, don't forget about the various mesh options. A screen door doesn't just have to be something that keeps the insects out. As alluded to earlier, we sell custom screen solutions and window screen material that does more than traditional screens. To learn more about all the window screen material mesh options available, read our last blog.
Metro Screenworks & Custom Screens
Metro Screenworks specializes in providing quality custom screens including window screens, window screen material, replacement window screen frames, sliding screen doors, and so much more. We want to help you have the screen systems that fit your home, business, and lifestyle. We are based in Denver, CO and all of our products are made in the U.S. We guarantee every product that we sell and are here for your questions. Learn more about Metro Screenworks here!

If you like our blog, stay tuned! We post regularly about our products, how to create the best screened in porch, how to throw a pool party, and more!