Vinyl Screen Wall System
Vinyl Screen Wall System–A Functional and Visually Appealing Solution
Our Vinyl Screen Wall System is the perfect solution for creating a functional and visually appealing screened porch. Composed of vinyl screen porch panels, the Screen Wall system enables home pros and DIY homeowners to create a beautiful and durable porch structure. This system can be attached to existing porch structures or it can be used to create porch structure elements!
Vinyl Screen Wall Specs
• 2" x 2" Posts in, 8' lengths
• 1" x 2" Perimeters, 8' lengths
• Material: White PVC Vinyl Panels with Composite Fiber Additives
• Tested to withstand winds up to 120 mph
Benefits of Vinyl Screen Wall
Flexible Design Options
Depending on your preference and porch design, you have the option to screen your porch using only the perimeter components that frame your openings. This flexibility allows you to customize your porch screening according to your specific needs.
Easy Installation
Our Vinyl Screen Porch Wall System utilizes 2-in screws to attach the perimeter components to the existing load-bearing members. For each 8-ft length, you will need 12 screws.
Sturdy Construction
The post components create vertical and horizontal rails, enhancing the structural integrity of your porch. Posts attach to the perimeter and other posts using angle brackets and 3/4-in screws. This reliable construction ensures the stability of your screen wall. You'll need 2 angle brackets and 8 screws for each end of a post that meets the perimeter, and 4 angle brackets and 16 screws for each vertical post that intersects a horizontal post.
Enhanced Aesthetics
Our Vinyl Screen Wall System offers the option to install cellular PVC pickets for added beauty and style. Each picket requires 2 picket brackets and 4 3/4-in screws. The beauty cap covers all the angle brackets and screws used to fasten the components, providing a clean and polished appearance. You'll need double the amount of beauty caps for each post, while only one beauty cap is needed for each perimeter component.
Spline Compatibility
Both the perimeter and post components feature built-in spline channels, making them compatible with standard flat spline and our super-strong MeshGuard spline. This ensures a secure and snug fit for your screen material, preventing sagging or displacement.
Vinyl Screen Wall Resources
Screen Wall
Vinyl / PVC Framing System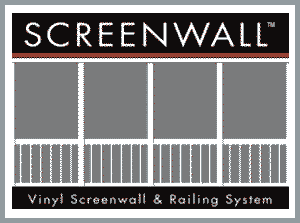 2-in x 2-in tracks, 8-ft lengths
White PVC Vinyl with Composite Fiber Additives
Usable on Existing or Non-Existing Porch Frames
Create Porch Structural Elements Tested to Withstand Winds up to 120 mph