Product Overview
Attach perimeter components to all outer framework of porch with Screen Wall 2-in Screws. This includes any weight bearing posts, flooring, and beams that will assist in forming the structure of the porch. See our other product pages under the Vinyl Screen Wall System category, such as 2" x 2" Screen wall Post, 1" x 2" Screen Wall Perimeter, Screen Wall Beauty Cap and our bracket and screw hardware pages to complete your Screen Wall project.
Create Posts, Rails & Other Elements
Modular PVC components for a nice, clean look with or without an existing porch structure.
Easy Installation
This unique reinforced PVC vinyl framing system allows you to screen from the interior or exterior of your porch using flat spline, in less time.
Tested for Weight & Weather Resistance
The PVC components surpass traditional aluminum porch systems in extreme wind and weather.
Unlimited Screening Configurations
Screen Wall can either attach to existing porch structure or be used to create porch structure elements.
Hidden Fasteners for a Clean Look
Screen Wall creates a seamless appearance with its 100% hidden fasteners.
Tips for Planning & Buying Your Screen Wall Project
Depending on your design, you can simply screen your porch with only the perimeter components which frame in your screened openings.
The 2-in screws attach the perimeter components to the existing load-bearing members. You'll need 12 screws for each 8-ft lenght.
Post components create verticals and horizontal rails. The posts attach to the perimeter and other posts using the angel brackets and 3/4-in screws.
For each end of a post that meets the perimeter, you will need 2 angel brackets and 8 screws.
For each vertical post that intersects a horizontal post, you will need 4 angle brackets and 16 screws.
If you create a horizontal rail, you may want to install the cellular PVC pickets as well.
For each picket, you will need 2 picket brackets and 4 3/4-in screws.
Both the perimeter and post components have built-in-spline channels and are compatible with standard flat spline and our super-strong MeshGuard spline.
The beauty cap covers all the angle brackets and screws used to fasten the components.
Each post has two channels. For each post, you will need double the amount of beauty caps.
The perimeter component has a single channel. For each perimeter, you only need one beauty cap.
Vinyl / PVC Framing System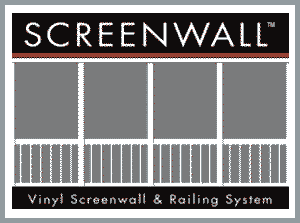 2-in x 2-in tracks, 8-ft lengths
White PVC Vinyl with Composite Fiber Additives
Usable on Existing or Non-Existing Porch Frames
Create Porch Structural Elements Tested to Withstand Winds up to 120 mph