Product Description
Genius Scenix Porch Windows, also called Expanse Porch Windows, are the industry's first porch windows with retractable screens. This patented, dual-sash window design offers panoramic views and convenient ventilation — all while providing adjustable protection from the elements. This screen porch window system is a long-term solution, so you no longer have to switch out screens for glass when the weather changes.
Learn more about our financing options.
Benefits
Easy-to-operate, dual-sash window design
Has stronger/safer tempered glass panels (4x stronger than regular glass)
Glass-tinting upgrade available in gray and bronze tint (76% protection)
Easy-to-install and DIY-friendly
Provides insect protection and privacy
Weather-stripping and interlocking rail provides a tight seal
Locks for added security
Available in standard and custom/extra-large sizes up to 6' x 8'
Four colors available - black, white, sandstone, and brown

Imagine the Possibilities
Enjoy more living space 3-4 seasons of the year
Increase property value and square footage of home
Create a unique space with custom sizes available
Can fit knee walls, transoms, sidelites or speciality shapes
Recommended by builders and contractors
Increase Property Value with a Porch
According to a recent NAHB survey, one of the top five, most wanted outdoor features for a home no matter where you live is a porch, and 65% of new homes built have a porch. The Genius Scenix retractable screen windows make it easier than ever to have a porch you can enjoy no matter the weather — which can also increase your property value with potentially as much as a 75% or higher ROI.
FAQ
Have questions about our Genius Scenix Porch Windows? Read FAQs below or contact us to learn more. We have live screen experts who can help you find the products you need, help with installation questions, and more. Want to see these products in person? Visit our showroom in Highlands Ranch, Colorado!
Are Scenix Windows Insulated?
No. Scenix windows aren't insulated like traditional house windows as they should only be installed in porch enclosures (Category II structures) and not as substitutions for traditional insulated windows in your home. However, they do have weatherstripping and interlocking rails to create a tight seal for a 3-4 season enclosure.
Can You Put Windows In a Screened-In Porch?
Yes. Replacing screen panels with windows can help to winterize screened-in porches for colder months of the year. Scenix windows can provide adjustable protection no longer making it necessary to make the seasonal change from screen panels to windows. Scenix retractable screen porch windows allow you to enjoy your enclosed porch all-year long no matter the weather.
Learn More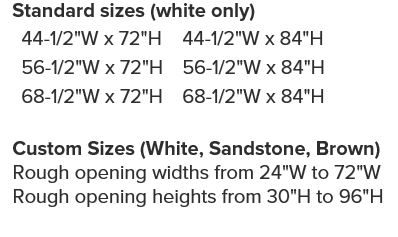 Custom Field
Product Reviews