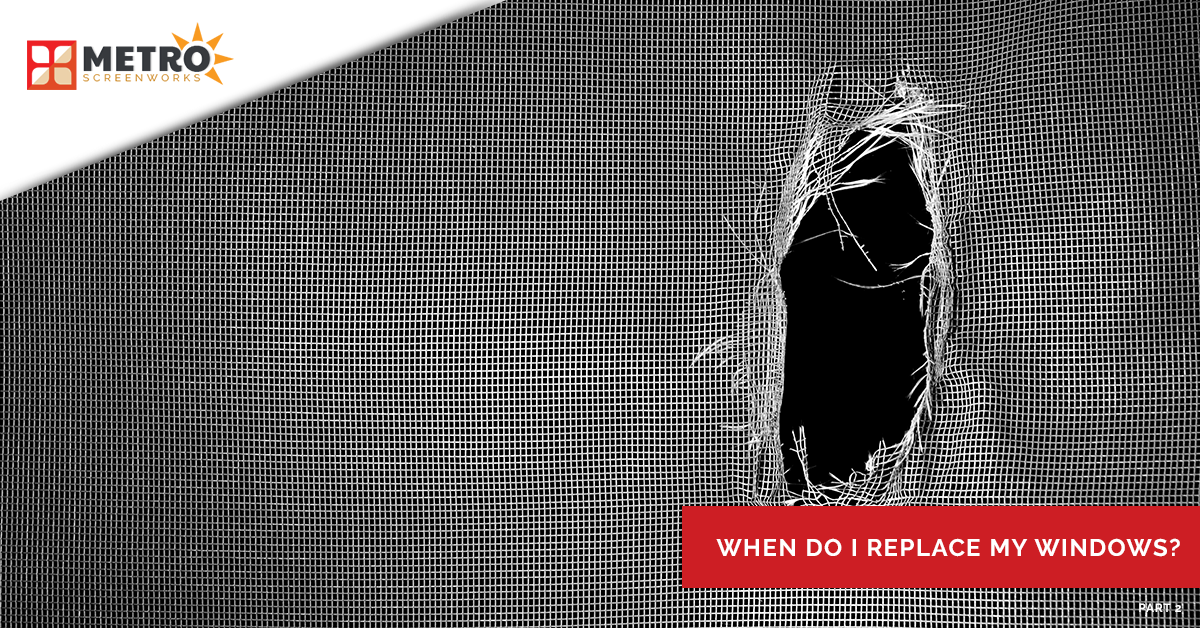 When Do I Replace My Windows? - Part 2
Hello, and welcome back to the Metro Screenworks blog!
Last time, we began discussing when to replace your home's windows. If you missed out on part one, be sure to catch up, otherwise keep reading to learn more about installing window screens that work for you.
Home needs a makeover
If you've been in your home for awhile or you've moved into an older home, it may be time for a makeover. It's easy to assume that a new coat of paint, new landscaping, or new floors are what will truly transform your home. This is true, but there are so many other options including replacing your windows. Homes that have old windows can often look worn, and windows that need repair can detract from the overall look of your home. Not only will new windows look good, a new style of window could add a lot to the overall look of your home and also improve even your view outside and the amount of natural light that you receive, which may cut down on your energy bill and provide health benefits.
After a severe storm
If you live in an area that gets severe storms, then you may want to give your windows a once-over to make sure that all is well. Homes that are in coastal areas can suffer damage over time due to salt, humidity, and winds. If you live in such an area, it is best to check on your windows regularly to ensure that they are doing all that they are supposed to do: keep the cold or heat in, and moisture out. If you live in such an area and are constantly replacing windows, it may be time to invest in some higher-quality, low maintenance windows.

Renovating an older or historic home
If you have just moved into an older home, it is always a good idea to take a good look at the windows. Chances are they need replacement due to the above mentioned reasons and are causing your older home to lack the energy efficiency that it could have. Renovating a historical home can be tricky. For you not only need windows that do all that they need to do, but also ones that do not detract from the overall look and integrity of the historical home. When replacing windows, find those that can be customized to your desired look and needs
Need Custom Screens?
Metro Screenworks does not sell windows. However, we do sell replacement window screens that can be tailored to your needs. Our custom screens are made from quality and specialty materials so that you can have a window screen that truly works for you. We offer replacement window screens made from traditional materials like fiberglass, aluminum, and stainless steel, as well as screens like pet screen, solar screen, air filtration screen, retractable screen, and more! If you are renovating an older home, we have copper screen that will match your home's aesthetic beautifully. Shop Metro Screenworks' online screen store for replacement window screens and screen doors.