When it comes to home improvement, and more specifically, creating a porch enclosure, it is all about finding high-quality products that provide long-lasting convenience and curb appeal. Genius Screens offers just that – Genius Scenix Porch Windows. These porch windows can function as winter porch panels and screen porch panels during the warmer months.
Keep reading to learn why this screen porch window system may be your next favorite home improvement addition.
What are Genius Scenix Porch Windows?
Scenix Porch Windows, also known as Expanse Porch Windows, are designed and manufactured by Genius Screens – the leaders in retractable porch screens as well as retractable window screens and screen doors. They are essentially retractable windows and screens built into one system: when you want protection from colder temperatures or rain or snow, tempered glass panels slide to replace the screens. However, when it's time for fresh air, the glass panels slide out of the way to reveal screens on either side of the glass.
Are Scenix Windows Insulated?
No. The Scenix screen porch window system is not made to replace standard insulated windows within your home. So, they should be reserved for use on your porch enclosure – and shouldn't replace standard windows in other living spaces.
Benefits
Scenix combination screens/windows for screened-in porch are the best option when you want to eliminate seasonal maintenance of switching between screens or windows for your porch enclosure. Scenix windows offer long-term functionality and are designed to provide ample curb appeal.
Easy-to-operate, dual-sash window design
Has stronger/safer tempered glass panels (4x stronger than regular glass)
Glass-tinting upgrade available in gray and bronze tint (76% protection)
Easy-to-install and DIY-friendly
Provides insect protection and privacy
Weather-stripping and interlocking rail provides a tight seal
Locks for added security
Available in standard and custom/extra-large sizes up to 6' x 8'
Four frame colors available - black, white, sandstone, and brown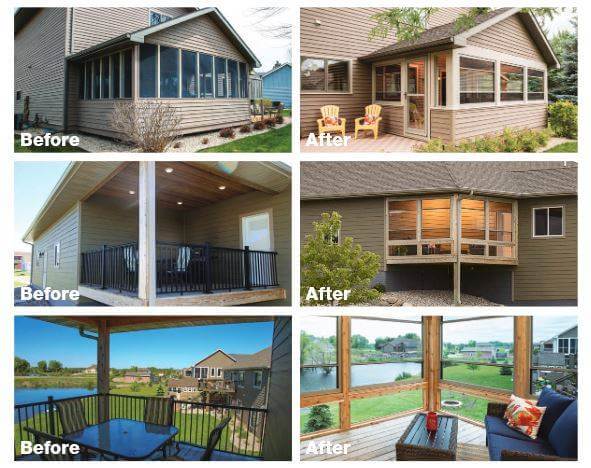 Imagine the Possibilities
When it comes to home improvement projects, you are at the very least looking for a solution to a problem and hopefully finding that and convenience and comfort. Genius Scenix Porch Windows offer all of that:
Enjoy more living space 3-4 seasons of the year
Increase property value and square footage of home
Create a unique space with custom sizes available
Can fit knee walls, transoms, sidelites or speciality shapes
Recommended by builders and contractors
Long-Term Solution: The Cost
The only "complaint" we hear about Scenix Porch Windows is the cost. They are an investment. However, it is important to keep in mind that these retractable screen windows are designed to offer years of use. What's more, we offer financing options through Affirm. If approved, you may be able to spread out payments at $57 a month – which is quite affordable when you consider the elimination of seasonal maintenance and the possibility of enjoying your porch enclosure 3 to 4 seasons out of the year.
Enjoy a Return on Investment
Not only will enclosing your porch with Scenix Porch Windows increase your home's square footage, but according to a recent NAHB survey, a porch is one of the top five outdoor features home buyers desire when looking for a new home. Another study showed that over 65% of new homes have a porch. With more people working from home, there is a desire to increase their home's square footage and get the most out of their space – a 3 or 4 season porch enclosure can do just that.
Whether you are looking for a long-term investment for your forever home or an addition that will look good for future buyers, a Scenix screen porch window system offers both.
Ready to Buy? Here Are the Next Steps
Are you ready to buy or at least learn more about the possibilities? You can shop Scenix windows on our website. There you can view images of what these windows look like installed as well as see frame color and size options. Now is the best time to buy as supply chain issues may extend shipping times.
Have Questions?
If you have additional questions or want to make sure you get the size for your porch windows correct, contact us! We love helping our customers understand exactly what they are buying, and to make sure they buy the correct size. If you want to see a Scenix window in person, you can stop by our showroom in Highlands Ranch, Colorado.