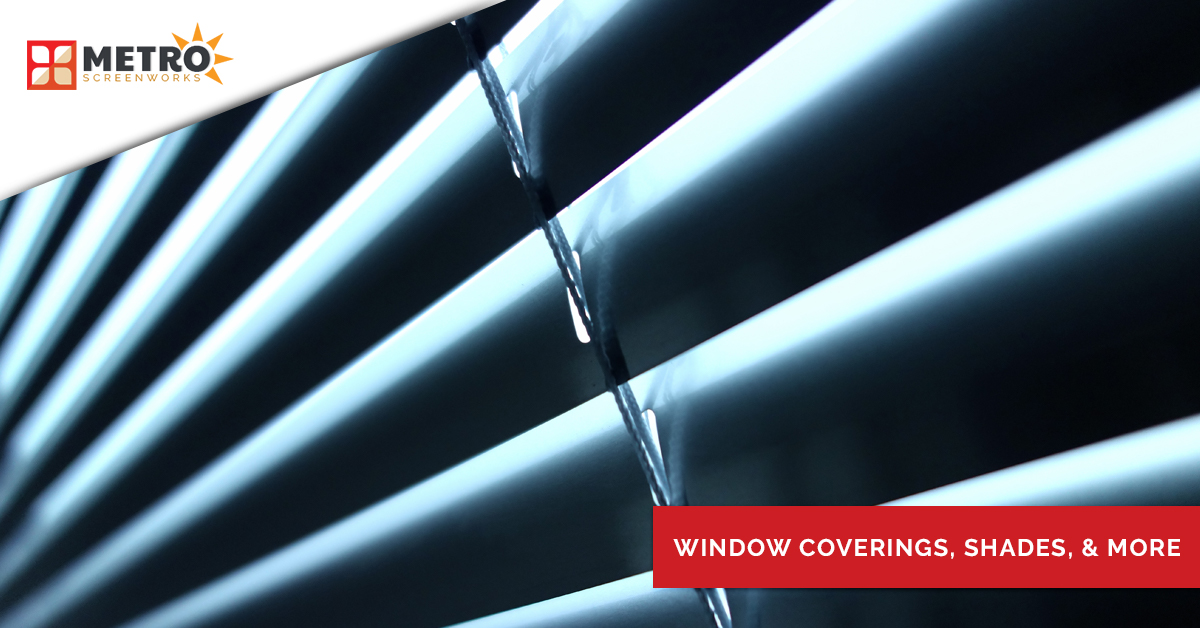 Window Coverings, Shades, & More
On the Metro Screenworks blog, we've talked about everything from the history of window screens to the benefits of fresh air, and important questions to ask when replacing your window screens. Today, we are going to talk about something that we have yet to cover on our blog: window coverings.
Curtains, blinds, and other types of window dressings are incredibly important. They not only provide practical benefits such as privacy and light blockage, but they are stylish and can add considerably to the design of your home' interior. Today, we are going to talk about a few types of window covering types and the benefits they provide.
7 Window Covering Options
Choosing window coverings for your home can seem easy at first — just get what you have always gotten — but is this really the best option? You may be settling for something that doesn't provide the benefits you need. Or perhaps you have the opposite feelings: choosing a window covering doesn't feel easy, because you are keenly aware of all the options and the variety is paralyzing. Metro Screenworks is here to help!
Blinds
Blinds are a commonly chosen window covering. Not only are blinds easy to operate, but they come in a variety of styles and materials: Venetian blinds, horizontal blinds, and more. They are made from a plethora of materials as well: wood, vinyl, faux wood, and plastic. With the variety of styles and materials, it is easy to find blinds to fit the style of your home. Wood can contribute to a luxurious rustic look, vinyl and plastic are generally modern-looking, and faux wood gives you endless possibilities for a portion of the cost or real wood. However, regardless of the style of blinds, they all provide customizable privacy and light exposure: If you want options, blinds are perfect for you.
Shades
Shades are similar to blinds, but don't have slats and are usually made of fabric. Roman shades, honeycomb shades, and roller shades are common types and like blinds, they provide a variety of options. Due to the materials that shades are made out of, they will let in more light than blinds when closed — unless you invest in blackout shades which are perfect for sleepers who need complete darkness to get the z's they need. Some shades only roll down from the top, while others can roll up from the bottom allowing light to enter from the top of the window and sometimes additionally from the bottom. Because shades come in a variety of colors and fabric designs, they can accommodate a variety of home interior styles. Also, they can be easy paired with other window dressings such as valances.
Solar Shades
Solar shades can reduce the amount of heat and glare that enter your home while still providing exterior visibility. The sun's UV rays can wreak havoc on our home's interiors causing discoloration, cracking, and other damage. Solar shades can block out harmful UV rays when the sun is at its height, but can be rolled out of the way to allow for clearest exterior visibility. Metro Screenworks offers interior and exterior solar shades that can not only give some privacy, but also protect you, your family, and your home from prolonged sun exposure.
Curtains
Curtains are a tried-and-true window covering type and can fit any interior style that you want. You can invest in heavy curtains that will provide maximum privacy, opt for sheer curtains that offer some privacy and outdoor light, or you can use a dual curtain rod and use both. Often layering curtains on top of sheer panels allows for even more options when it comes to practicality, but you also get a sophisticated look that can pair with a variety of styles. You can also pair curtains with blinds, but often it is more common to pick one or the other. Curtains can easily pair with any interior styling.

Window Film
A less commonly chosen window covering is window film. Window film or decals can provide privacy while also being stylish. Film is a more affordable way to get the benefits of etched, glazed, or stained glass, and it is a less permanent option. Window film is less commonly used on the main windows of our rooms, but on windows in or around your home's entryway as well as bathroom windows. If you are renting, window film is an easy way to get the benefits of privacy glass without the attached price tag and commitment.
Privacy Screens
Privacy screens can be a great option for those times when you don't want to sacrifice ventilation for privacy — an excellent alternative for bathroom and kitchen windows. Privacy screens are installed right where your regular screen would go allowing you to also utilize curtains and other more stylish window dressings.
Shutters
You may have seen faux exterior shutters, but shutters can also be utilized inside. These are a popular way to get the most privacy, and can be moved out of the way to allow for maximum exterior light and scenery. Shutters are easily operated by a piece of wood that runs the vertical length of the shutters. If you aren't afraid to invest a bit in your window coverings, shutters can be a practical and luxurious option.
Textured Glass
Textured glass provides the benefits of window film, but are a more permanent option. Usually textured glass is placed in bathroom windows and entryway areas to allow for privacy and natural light. Stained glass and textured glass can often be utilized together for a customized look that provides privacy and natural light.
Do Your Windows Need an Upgrade?
Metro Screenworks does not offer a wide variety of window coverings — we don't sell curtains, shades, film, or etched glass. However, we do provide solar shades, security screen, privacy screen and other materials that can offer some privacy, ventilation, and visibility. Shop our entire inventory online and get the customizable security that you deserve. We can make your solar shades and screens to your desired customized size and offer replacement window screens that do more for you than just keep the bugs out. Learn more about what replacement window screens can do for you on our blog.