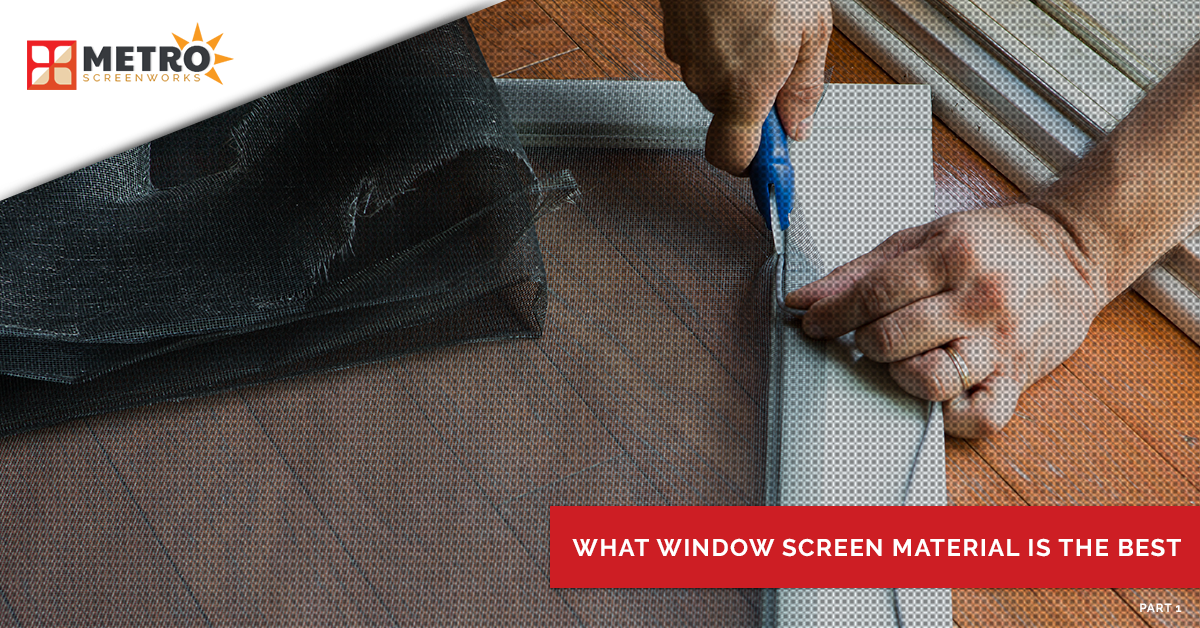 What Window Screen Material is the Best?
Hello and welcome back to the Metro Screenworks blog! Lately, we have been talking about all things window screens. In our last couple of blogs, we discussed how to recycle old window screens. Unfortunately, your window screens have to be replaced now and again — what do you do with your old screen? We at Metro Screenworks are in favor of protecting our planet and advise recycling your old screens by using them in purposes around the house. Read our last blog series to learn more!
When you must replace your window screens, you are probably looking for window screens that are:
Affordable
Made from quality materials
Durable
Do what they claim they do
If you are taking the time now to fix your window screens, you don't want to do it again a month or so later. Also, you may be looking into what options you have with your screens. For those who aren't screen specialists, you may not be aware of all the options that you have.
What Are My Options & How Do I Decide?
Because we at Metro Screenworks are the Top-Rated Online® screen store that has been serving our clients for over 40 years, we would say that we have the best window screen material and replacement window screen frames. However, beyond that, what type of window screen material do you choose? It all depends on what you need it to do.
Ultimate Durability
If you are looking for ultimate durability, pet screen is the perfect option for you! Pet screen does exactly what it is supposed to do: provides protection from the damage that our pets and kids cause on our screens. Pet screen can withstand the constant scratching of claws, paws, and teeth. Pet screen fits in most replacement window screen frames and sliding screen doors. However, for those looking for a lighter window screening material that provides nearly the same amount of durability, use super screen! It can withstand hail and other violent weather and keep all those pesky insects out. To learn more about super screen and pet screen, visit our website.


Protect Your View
If you live somewhere with a million-dollar view, you need to enjoy it! Because window screens, screen doors, and other screening products can obstruct your view, it can be tempting to lose your screens entirely. However, if you do, then you are either opting to miss out on getting fresh air or you will be dealing with bugs. Keeping six- and eight-legged pests out of your home isn't just to avoid the annoyance, but it is also to protect your health and the health of your family. Flies, mosquitoes, and other bugs carry harmful disease that can make you sick, cause permanent damage, or even death. West Nile especially is something that you don't want to have to deal with.
So, what is the solution? You don't have to make a choice between enjoying your view and having screen protection. Install SeeVue or BetterVue screen! These types of screen are called invisible screen because they are nearly invisible allowing you to enjoy the view and say goodbye to annoying bugs.
Do you have other needs that your window screens and screen doors need to meet? Stay tuned for part two of our blog series! We will discuss a couple more ways how the various types of screens that we offer can benefit you. As always, be sure to shop Metro Screenworks online! We offer custom screen solutions and high-quality materials that you can depend on. Want to speak with a screening expert, be sure to call us!