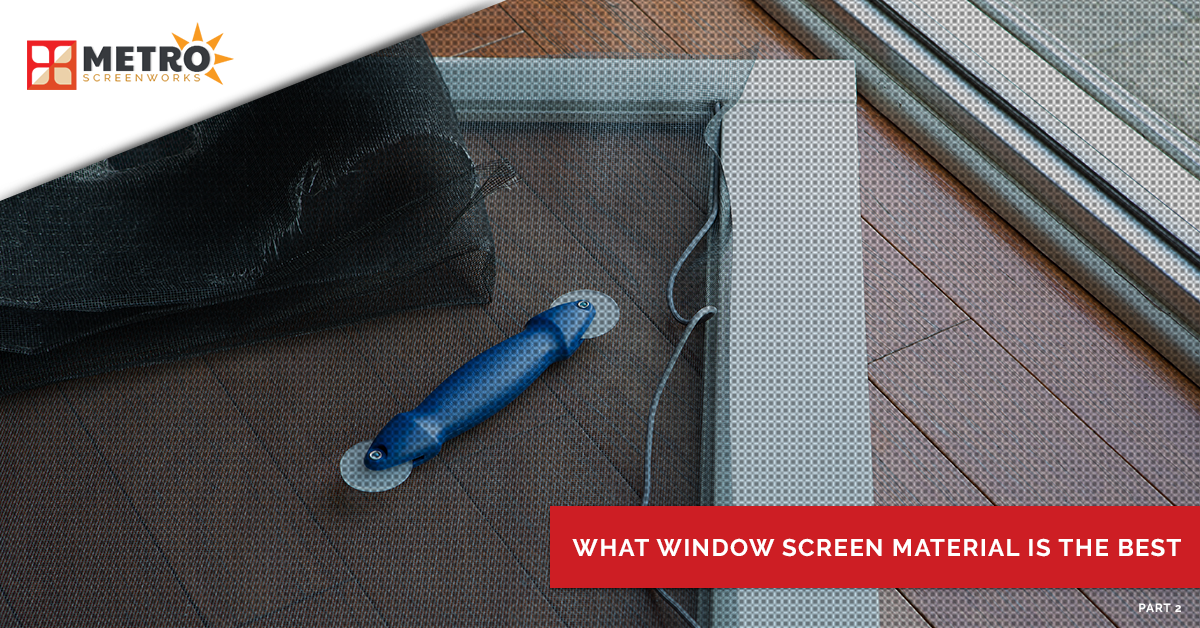 What Window Screen Material is the Best? - Part 2
Welcome back to the Metro Screenworks blog! In our last blog post, we began talking about how screens can meet your needs. If you've never had to order replacement window screen frames or window screening material, you may not know that you have options!
You don't have to use flimsy traditional fiberglass screen or aluminum mesh. When you shop with Metro Screenworks, you get options like pet screen, super screen, copper screen, no-see-um screen, and others. Read part one of our blog series to learn about screen products that can offer durability and protect your view. If these issues aren't your concern, keep reading!
Protect Your Aesthetic
If you recently bought a vintage home or have enjoyed living in one for some time, you know that part of the appeal of this type of home is its unique look. Many older homes may have some similar characteristics to others built during the same era, but many are all their own design. For older homes, there comes a time sooner than later when you need to replace your window screens. Due to the older-style of windows installed, often you need to keep the original frames and simply rescreen them. Copper screen is a great option for those repairing or renovating their older homes. The copper screen blends well with the aesthetic of many vintage homes and ages to a beautiful dark bronze color.
Provide Protection From Micro-Pests
Do you live somewhere where you brace yourself every year for the impending barrage of gnats and other no-see-um bugs? Does it seem that no matter what you do that your screens will not keep them out of your home and out of your life? Installing no-see-um screen, also known as tiny mesh, is the solution! This window screening mesh is fine fiberglass so it can keep out the most miniscule of bugs. You don't have to live with the annoyance of gnats — install tiny mesh!

Offer A Break From Allergies
Most people enjoy fresh air, unless it means that your allergies will act up. Not being able to open up your windows can make your home smell stale and can even negatively affect your health. Instead of just resolving yourself to keeping your home shut, install air-filtration screens. These screens are made to filter out dust, pollen, and other pollutants, making it a perfect solution for those living in the country, the city, and anywhere in between!
Protect Your Home From UV Rays
The sun is what allows life to exist on this planet. However, such a powerful life source can also prove detrimental; the sun's heat and UV rays can accelerate the deterioration and aging of your home's interior causing fading, cracking, and discoloration. If you have a home that receives sunlight much of the day and you're concerned about the effects on your home, install solar screen! Solar screen comes in a variety of strengths and can protect your home and family from destructive sun exposure.
Want to learn more about the options available to you? Visit the Metro Screenworks website! We have been serving homeowners, business and building owners, contractors, and others. Want to see the product before you buy? Request a sample!