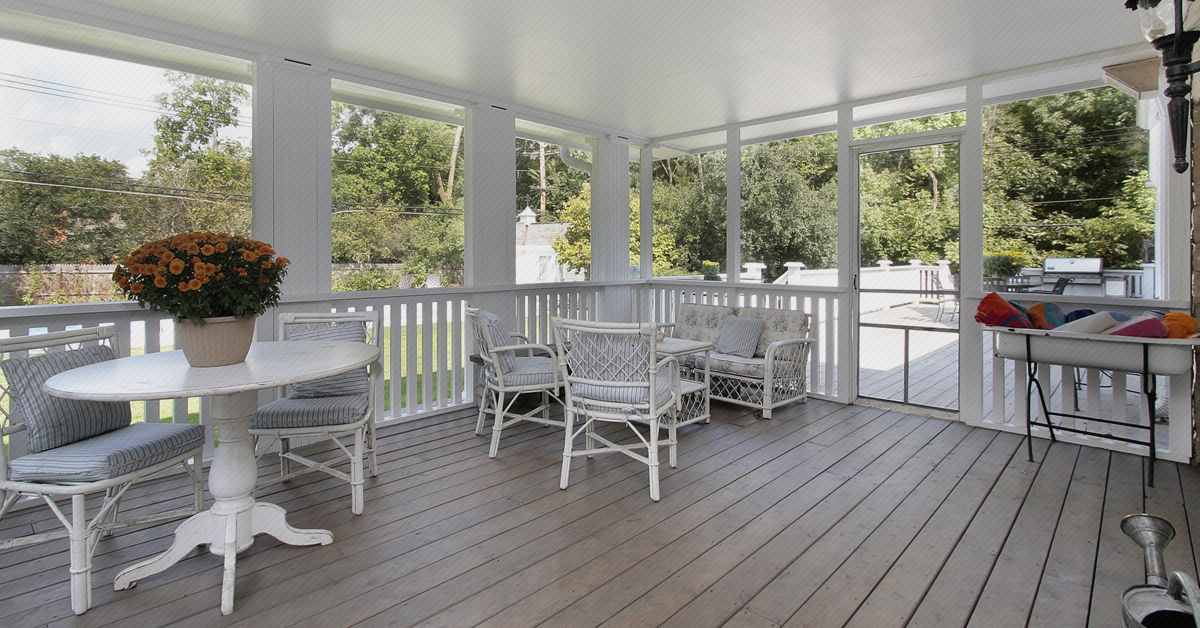 Want a Change? Try a Screened-In Porch
Want to change up your patio, but not sure how? One great way to change up your patio is to create a screened-in porch! Even though winter is approaching and in so many places the time spent enjoying the outdoors is coming to a close, winter is one of the best times to start making plans for your summer renovations: you can get your plans set, giving you time to figure out what your really want. Planning now also gives you time to make your product and supply lists, and start budgeting.
What are some key aspects to think about as you start to plan to build your screened-in porch:
Use
What will you use your porch area for? Will it just be for personal use or for the whole family? Do you want to create an extra place to read and enjoy a lazy afternoon, or a place to make memories with guests over a dinner party? When considering the use of your screened-in porch you must also think about the size of the furniture needed to accomplish your purposes for your porch. The great thing about designing a screened-in porch is that it can be completely yours!
Style
After you've decided what you will use your porch for, next, it's time to consider what style would fit your dream screened in porch. When considering the style of your screened in porch, you are not only thinking about structure, but also about color and the situating of furniture within your porch. Pinterest and other sites can be great resources for seeing the potential for your screened in porch. Other aspects of design that you may not have considered is your roof style and ceiling type. Many enjoy vaulted ceilings!
Lighting
One aspect of styling to consider is lighting. Would you like to install a permanent overhead light or would you like the versatility of installed outlets that can accommodate lighting setups of a wide variety?
Other Electrical Parts
Many screened-in porches involve installing other items that use electricity such as fans, stereos, TV systems. When thinking about if you will include these in your design, it's important to not only consider weather conditions in your city and how they may affect your equipment, but also on the availability of electricity to that part of the house. Before buying supplies, be sure to consider the zoning restrictions of the city in which you live.
Screens
Lastly, but possibly the most important to consider, is what type of screens you would like to install in your porch. We at Metro Screenworks can offer you a wide variety of screens that are sure to meet you needs. We make custom screens that will be just the right fit for your project and will manufacture them in bulk for you.
Also, we offer several types of actual screen so your custom screens can be all that you want them to be! We offer custom screens that will withstand the wear and tear that our furry friends put on our screens. We also have screens that will keep pollen and other irritants out of our enclosure. Want a screened-in porch, but afraid that your view will be negatively affected? We have a custom screen for you that offers significantly improved visibility, so you can enjoy the sites to a greater degree!
Does a screened-in porch with custom screens sound like something you would like? Shop our wide variety of options now and start designing your dream porch!