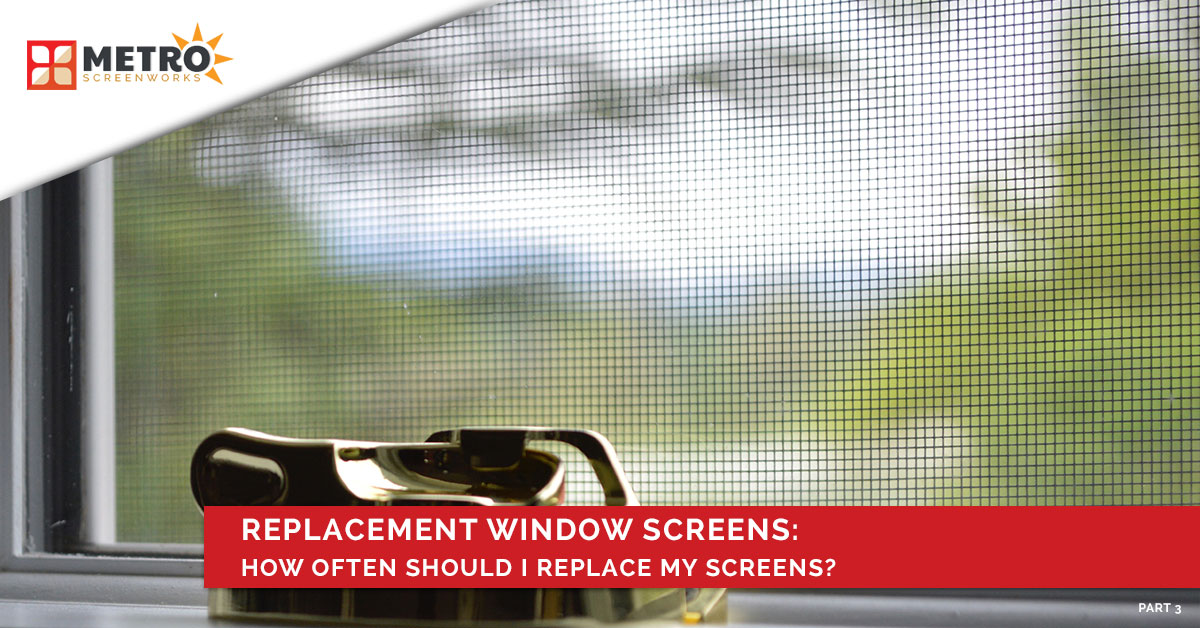 Replacement Window Screens: How Often Should I Replace My Screens? - Part 3
Welcome back to the Metro Screenworks blog! Lately, we have been discussing when your screens need replacement. It's easy to forget about your screens because they do their job quietly without drawing much attention to themselves. However, when they are broken or in need of repair, we definitely notice them letting us down. In our previous blog posts, we discussed the factors that affect the longevity of our screens. Today, we will talking about when our window screens have run their course and it is time to replace them.
When your window screens are torn, bent, and broken
If your screen is torn, bent, or broken then it is pretty obvious that you need to replace your screens. Most people would know that it is most certainly time to start looking for replacement window screens. However, we find that many of our customers put off repairing or replacing their window screens, because it's just a screen, right? Our screens actually do more for us than most of us probably realize. They protect us from insects that spread disease, they provide some insulation from the heat and cold, and they can protect our windows from hail and other destructive weather elements. If your window screen is torn, bent, and broken, it's time invest in replacement window screens.
When you need more or custom protection
Our screens do so much more for us than just keeping the big bugs out. The custom screen options are endless. If you need protection from the sun that beats down during a particular part of the day, choose to upgrade your screens with solar screen. Do your pet's or kids leave your screens stretched or torn? Try heavy-duty pet screen or super screen. Want to keep even the smallest pests like gnats out of our home and out of your life? Install no-see-um screen. This is just the tip of the iceberg. There are so many more types of window screen material that can allow you to have the custom screens that truly fit your needs.

When you are ready for an upgrade
The window screens that come preinstalled in our homes can do the job of protecting our homes just fine. However, why settle for mediocre screens when you can upgrade to custom screens that provide more than just the normal protection? Have a million dollar view, but can't really enjoy it because of your screen? Upgrade to invisible screen! Have an older home that is in severe need of new screens? Why not install copper screen that will weather to a beautiful bronze and be the perfect accent to the vintage look of your home?
Need Replacement Window Screens?
There are a lot of reasons to buy replacement window screens. If you are interested in fixing your screens. Shop the Metro Screenworks online screen store! We offer rolls of window screening material as well as pre-assembled custom window screens and all of this at affordable prices. Shop Metro Screenworks, your online screen store for custom window screens that you can rely on!