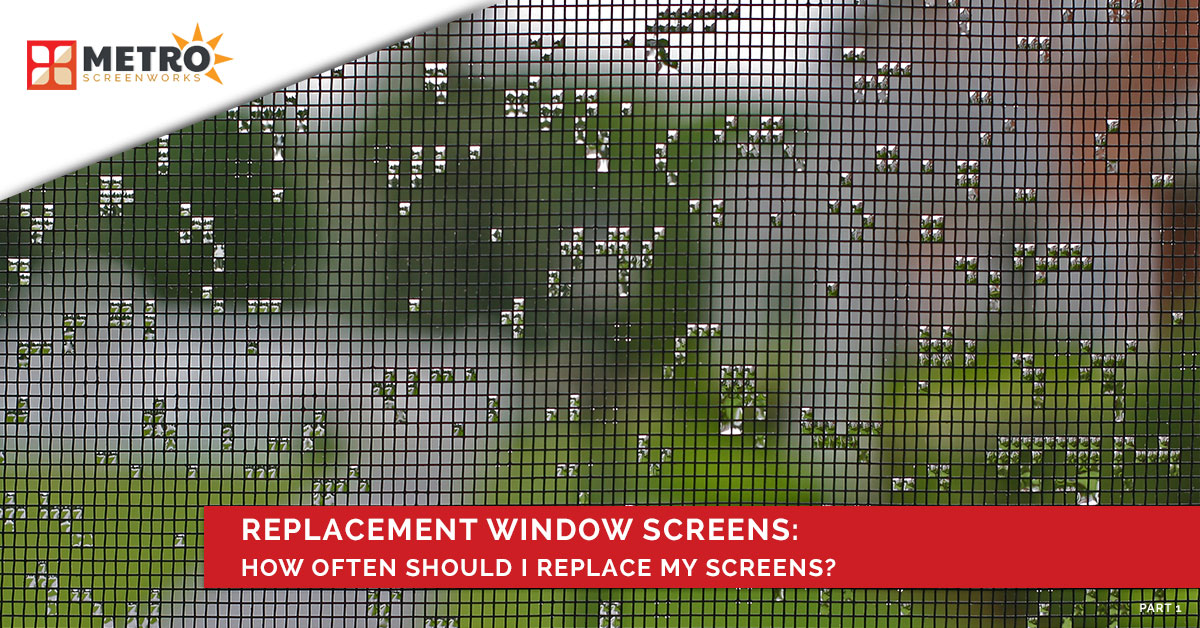 Replacement Window Screens: How Often Should I Replace My Screens?
Window screens and screen doors, and really, any screen product is an old invention that many of us take for granted. It's easy to forget about something that is so incredibly effective, yet does so much for us without prompting or showiness. For example, our phones are capable of so much and we are very much aware of this fact Our window screens are, of course, less advanced technology. However, if we no longer had our smartphones, our lives without screens would be very different.
Today, our window screens can do so much for us than the first screens that came to be during the Civil War era. We now have solar screen, pet screen, no-see-um screen, copper screen, invisible screen, retractable screen, and more. Though our window screens are relatively low maintenance, occasionally, we do have to care for them to prolong their life and we even have to replace them.
How Often Should I Replace My Window Screens?
The short answer to the posed questions is whenever your screen appears to be broken, you need better protection, or you are ready for an upgrade. However, today, we are going to begin by answering a related question, "What affects the longevity of my window screens?"
Ready to shop for replacement window screens? Shop Metro Screenworks! We offer custom window screen options and rolls of window screening material that can fit whatever need you have. To learn more about our products, shop Metro Screenworks' online store today!
What Affects the Longevity of Our Screens?
Structure
Not all window screens are created equal. The structure of your screens will affect their longevity and their effectiveness and it can be impacted by the quality of materials, the care that was taken to assemble the window screen, as well as if the screen was installed in the window correctly.
Material
The materials that your window screen is constructed from will also affect its longevity. If your screen was built from high-quality materials, as assumed, it will probably last longer. Also, the longevity of your screen will be affected by how well your screen's material matches the use and abuse that it must endure.

Frame
The longevity of your screen will be affected by its frame. Most window screen frames are made from steel or aluminum. If your window screen doesn't see much use or abuse, it may be safe to install an aluminum one, but if your screen does get quite a bit of use and you may want to maximize it's longevity, a steel frame may be what you want.
Corners
Corners are small but important elements of our window screens. They essentially keep our screens together and fit — you guessed it — in the corners of our screens. There are two types of corners: outside square corners and inside corners. Like not all window screens being created equal, not all corners are the same either. The type of material they are made from, such as if they are plastic or mitered, and the way in which they were installed will affect how long your window screens will last.
Need New Window Screens?
Read part two of our blog series to learn about the other factors that can affect the life of our window screens and if you are ready for replacement window screens, be sure to shop Metro Screenworks' online screen store! We offer custom screen solutions that can provide you with window screens and window screening material that you can rely on and can do so much more than just keep the big pests out. Shop Metro Screenworks today.