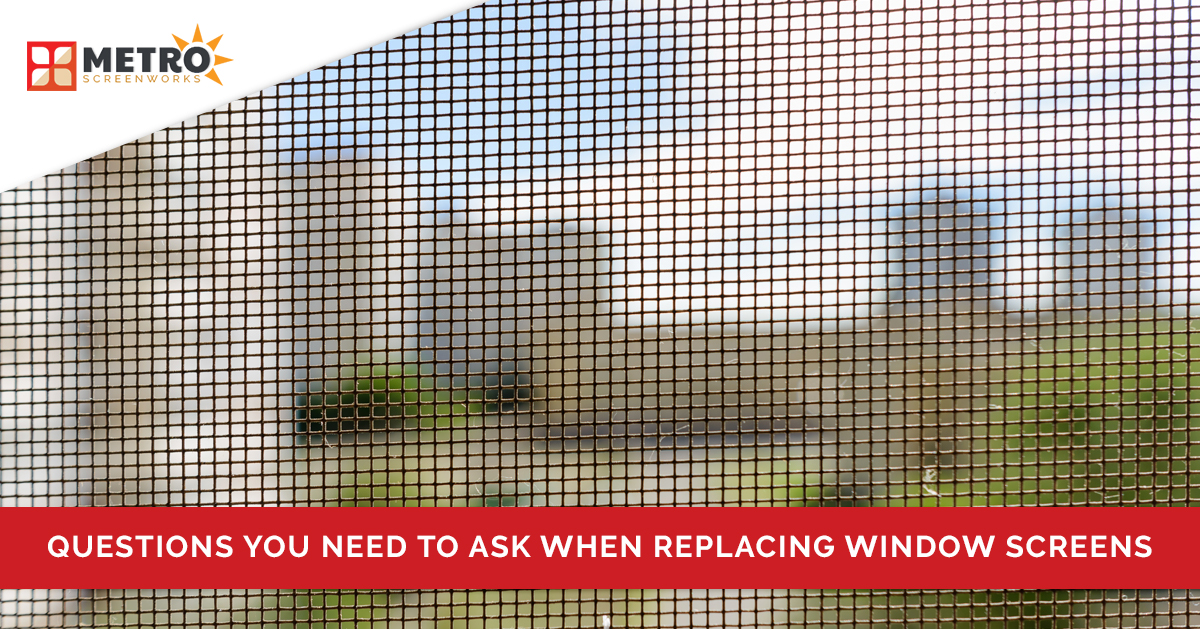 Questions You Need to Ask When Replacing Window Screens
For the home improvement fanatic, taking care of repairs around the house can be an enjoyable thing to do. However, for those that don't have as much experience accomplishing the "honey-do" list or have never needed to fix their home, the prospect of replacing window screens can seem daunting.
However, it doesn't have to be. Today, on the Metro Screenworks blog, we are going to give you five questions that you can ask every time that you need to replace your screens. Also, be sure to check out our Measuring FAQ page and feel free to contact us with your questions!
5 Questions You Should Ask When You Need to Replace Your Home's Window Screen
Replacing your home's window screens can seem like a difficult task, but with the right tools and information, you can do it!
What Do I Need to Replace?
First, before you buy any window screen replacement tools or parts, you first need to figure out what you need to replace. Is the frame still intact, or will that need to be replaced? Do you need entirely new screen, or can you do a simple repair? Can this problem be solved with just a new bolt or screw?
Do I Need Custom Screens?
You also must determine if you need custom window screens. Older and custom homes can require that you buy custom-sized window screens. When you shop anywhere else, you would have to buy all the parts and assemble your screen on your own. Fortunately, Metro Screenworks offers the opportunity to order pre-assembled, custom-sized window screens.
Is It Time For An Upgrade?
If one screen needs replacing, it might be a good idea to check the rest of your home's screens. Years of wear and tear, tree branches, animal claws, and other elements can put significant strain on our window screens. If you are going to replace one screen it might be more cost-effective, require less time in the long run, and give you peace of mind to replace all of your screens.
What Do I Want My Screens to Do For Me?
Another question that can be helpful to ask is "What do I want my screens to do for me?" Do you need window screens that also offer UV protection, air filtration, or are nearly invisible? Or are you looking for window screening material that offers maximum durability or fits the vintage aesthetic of your home? If you have a need, it is likely one of our custom window screening materials can fit your needs. Window screening material to consider include:
Super Screen
Super screen is made to be three times stronger than traditional window screening material and can withstand heavy use, as well as exposure to extreme weather elements such as hail. Learn more!
Pet Screen
Pet screen is engineered to withstand the abuse that our pets put on our home's window screens. Made to be seven times stronger than traditional screening materials, enjoy peace of mind knowing your screens will keep the bugs out and your furbabies in. Learn more!
Solar Screen
The sun can put extreme wear and tear on the interior of our home and cause fading, cracking discoloration, and other signs of depreciation. Protect your home with solar screen. Learn more!
Copper Screen
Copper screen has been used in the construction of Faraday cages, but can also make a beautiful addition to vintage homes. Learn more!

Retractable Screen
Retractable screen doors and window screens allow for great insect protection when you want it, and will be completely out of sight when you don't. Learn more!
BetterVue & SeeVue Screen
Have a million dollar view and hate having to look through window screen to enjoy it? Install BetterVue in your window screen frames and SeeVue in screened-in porch panels. Learn more about BetterVue, SeeVue, and UltraVue!
Air Filtration Screen
Suffer from the effects of allergies? Install air filtrations that can protect you from allergens, pollutants, and more. Learn more!
Tiny Mesh
Are you tired of gnats and other tiny pests buzzing around your head and wonder how they keep getting in? Install tiny mesh — a screen made with mesh that is finer than traditional window screening material and will keep the smallest of pests out of your home and out of your life. Learn more!
What Tools Do I Need for Installation?
The kind of screen you choose will determine the tools you need to install it. If you are installing a pre-assembled screen, then you will most likely need just a screwdriver. The type of hardware on your screen will affect the tools needed.
If you plan to assemble your screen by yourself, then you will need a few more tools such as a knife, spline cutter, a screen roller, and a screwdriver. Before you uninstall your old screen, make sure that you have everything you need to make the installation of your new screen easy.
Ready to Get Started?
Ready to replace your window screens? Shop Metro Screenworks online screen store and enjoy the benefits of high-quality, affordable custom window screen products.