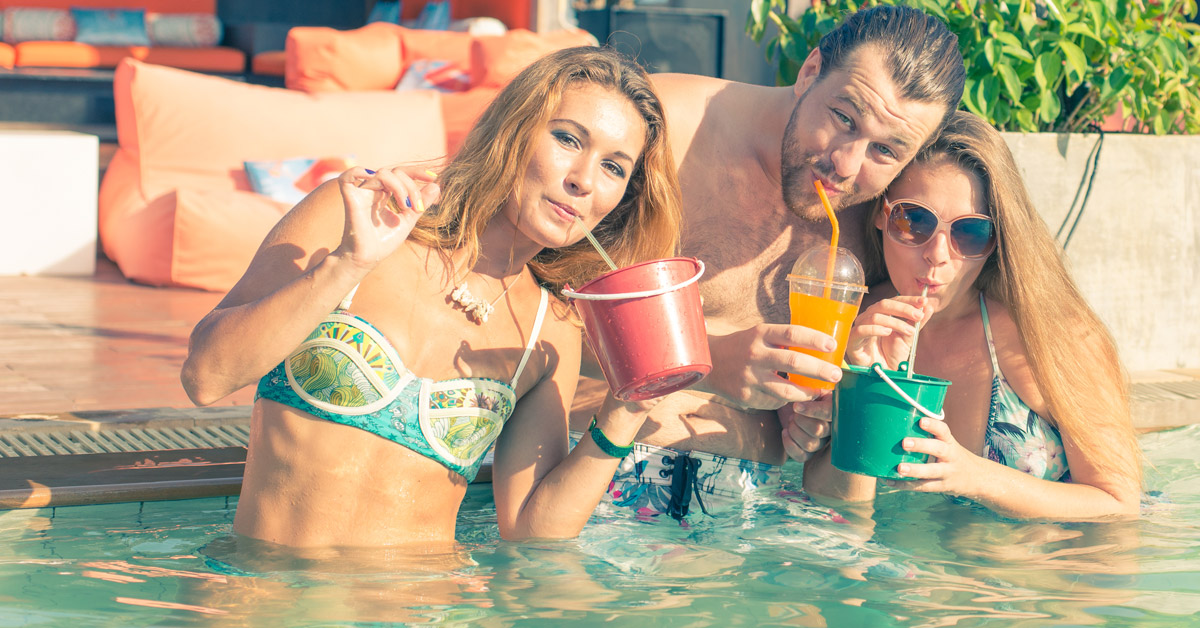 Pool Party!
In our last post, we began planning for that dream pool you've always wanted, and part of having a pool is throwing an epic party after your dream pool's completion. Though it is winter and that pool party is a long way away, if you want an epic party, and need help keeping those winter blues away, why not start planning now?
What Kind of Party Do You Want?
First of all, you need to decide what kind of party you want. Are you a parent who loves to have the neighborhood kids over, or are you dying for a night out? Are you a retiree who wants to get the family together and see those grandchildren who seem to be growing like weeds, or do you want to have more than one party: One for the kids, and another to let your hair down and call a babysitter for the weekend?
Party Theme
After you've decided what kind of party you want to have, it's time to decide on a theme. A lot of parties nowadays, don't really have themes, but owning a pool is a big deal, so why not go all out? A theme can be centered around decorations, or you can get your guests involved and have them wear party-themed pool attire. Possible pool party themes include:
Under the Sea - No matter if you live on one of the coasts, or in middle of America, everyone loves an Under the Sea party! Have playful fish, seahorses, jellyfish, mermaid decorations, a streamer table and pool decorations!
Movie Night - As one site said, "there are drive in theaters, why not have a "drive in" pool and structure your party around your favorite or classic movie!
Vegas - Who doesn't want to be transported to the strip with vegas inspired-drinks and lux bikinis?
Pirate - Everyone loves a pirate party! If you need to cater to the kids, create a treasure map and have a treasure hunt!
Deserted Island - Everyone has dreamed of what it would be like to be on an abandoned island. Have coconut-inspired eats and drinks and maybe even grill out with skewers and snacks in skull bowls!
Beach Day - Bring the beach to your pool with beach balls, bright-colored decorations and blow-up shark floats.
Decade Day - Pick a decade and celebrate in retro-style! Have your guests come in 1950s or 60s inspired bathing suits. Play decade-inspired music to keep the mood going!
No matter what theme you choose, why not go all out? With this many months to plan and prepare, you can make your party the talk of the summer!
Decorations
Once you've decided what kind of party you are going to have and the theme, it's time to start shopping for decorations! Choose colors that best emanate your theme and run wild! Decorations can include yard decorations and signs that point your guests to where the party is happening. Balloons are always a great option as well as other classic decorations, such as streamers, banners, and signs. And, don't forget about the food! Everyone loves a party, a host who goes the extra mile, and one that makes the food match the theme. Toothpick decorations can be a great option for bringing a little party fun to the snack table. And, don't forget the table cloths!
Food
Though you will need to know how many guests are coming and probably won't know until months from now, it is always a great idea to start planning your menu and to research food that will go along with your theme. Pinterest is a great asset for party planning and to find party- themed food ideas. Don't forget about the classic party foods that are always loved by guests: Chips, salsa, guacamole, pizza, burgers, hot dogs, and others!
What Kind of Host Are You?
If you are having a party with kids, remember you can make food specifically for them and then get a little more creative with the food for the adults. Another key factor to consider when planning the food you are going to serve is how well it will keep outside. Also, know what kind of host you are: If you thrive in busy host or hostess mode, then having food that has to be kept cold and in need of constant attention will probably be fine for you to have at your party. If you are a host or hostess that enjoys getting a party set up and then being care-free to socialize and hangout with your guests, then choose low maintenance foods, or consider keeping your food inside.
Drinks
Drinks can also be fun way to keep the theme of your party going. Lemonade is always a winning choice for outdoor parties on hot days. Consider mixing up your lemonade with some fresh fruit cut and infuse into your lemonade: you can also try infusing fruit in water and tea, as well! If you are having a large party, consider investing in clear drink dispensers that show off their colorful contents, and are easy for guests to use. If you love to play drink-maker or bartender, set up a menu with drinks that your guests can order from you. Also, consider fun drinking glasses and drinking accessories, such as paper umbrellas, swords, and more!
Pool Fun
One of the most fun parts about throwing a pool party is the excuse to buy, floating decorations, floating chairs, and toys for the pool! If you have a sea-themed party, consider buying blow-up floating sharks, or if you are going for a high-class theme, buy floating flower decorations, or floating lights! If you want to keep the kids entertained, buy a basketball hoop, pool volleyball net, pool balls or driving toys. You could even have a boat-making contest between the kids or for the kids at heart! Want to think out of the box? Look on sites such as Pinterest for new ideas!
Music
Music that you play at your party can be anything that you want it to be, but it's always fun to keep with the theme. If you decide to have a decade party, play music from that decade. If you have a movie-themed party, play the soundtrack from that movie. If you are hanging out with friends that you haven't seen in awhile, choose music that brings back good memories of times long gone. You can construct your own playlist or pick one from Pandora, Spotify, or other sites that will keep the party going all day!
Last Thoughts
Party Favors
People of all ages love getting party favors. Make your party favors match your theme or have party necklaces or luaus for everyone!
Guest Comfort
Though you won't know how many guests you will have yet, it is best to start thinking ahead about keeping your guests comfortable during the entire party. Think about pool furniture and how everyone will sit comfortably. Perhaps you will need to invest in more chairs or asks guests to bring their own lawn chairs. Also, consider having care packages in the bathroom with items such as sunscreen, extra towels, first aid, tissue, and more. Another aspect to consider is the issue of shade. Depending on how long your party is you will need to consider the need for shade and how all your guests will be able to be comfortable throughout the day, without traipsing wet feet through your home.
Perhaps you need to invest in Custom Screens!
Metro Screenworks sells custom screens that will fit any size of pool patio you have and can accommodate a variety of needs you may have. We have custom screens that are both permanent and stationary, as well as those that can roll up and are adjustable. Shop our full inventory and contact us with any questions you may have!
We hope you'll fight the winter blues, by joining us and planning to have the best summer yet!