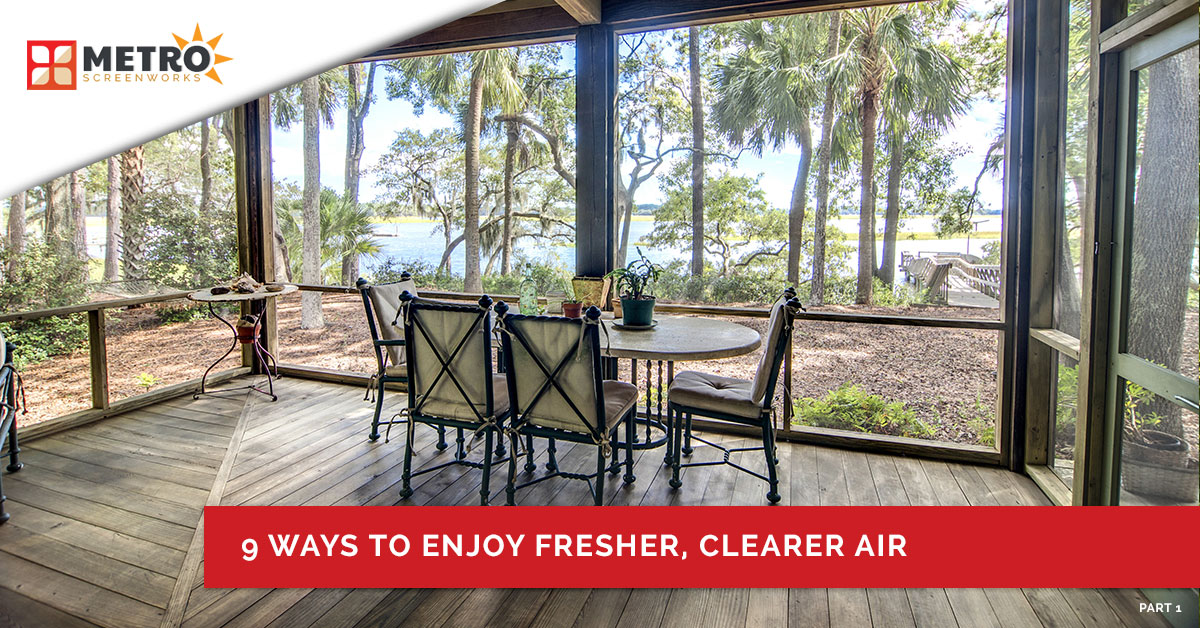 9 Ways to Enjoy Fresher, Clearer Air
Spring is here and even though there still will be some snow storms around the corner for us here in Denver and across the country, we can safely say that it's time to get some much needed fresh air. It is time to enjoy cool spring days and eventually, warm fragrant summer nights. Though we can still get some fresh air during the colder months, it's a lot harder and perhaps, depending on who you are, less enticing. In our last post, we talked about the benefits of getting fresh air and how it is essential to living a healthy life.
Whether you believe that fresh air is good for you, Metro Screenworks offers window screens, screen doors, rolls of window screen, custom solar screens, and more to the homeowner, business owner, and contractor who is looking for affordable, yet high-quality screen options that will be effective at keeping the pests out and allowing the fresh air in. Shop our online screen store and keep reading to learn more about how to enjoy pure, fresh air in your home.
Get Outside, Anywhere
Our first suggestion is to go outside and, if you live in a crowded city, make sure to take a trip to your city limits and soak up that clean air. For those who aren't in a big city, take as little as 10-15 minutes outside and enjoy a slow stroll or simply sit quietly on a park bench and take some deep breaths. As the weather warms up, be sure to make plans for hiking, playing outdoors with the family, and maybe even going on a camping trip!
Open Your Windows
Opening your windows is an absolute must! During the winter, it is easy for our air to dry out and to become stagnant. This stale air isn't good for us and we will not enjoy the greatest mental and physical health if we don't refresh our indoor air. Open your windows and door — we sure to have working window screens and a reliable screen door — and let the cool, fresh air in! You will be surprised by how much healthier and happier you will feel.

Take a Break
As we mentioned above, take a break from whatever keeps you inside, go outside, take some deep breaths, and enjoy some vitamin D. Most of us have to work inside all day and it is easy to stay in and just plow through the work that has to get done. Even though this is completely understandable, if you take a step away from your work, you may notice your productivity and greater clarity of mind increase, and to be in a better mood.
Clean Your HVAC
Our HVAC and duct system is largely responsible for the air quality of our homes; all of the air in our homes circulates through this system, and, if our ducts are full of dust and other debris, our air quality will not be good at all. If you get your HVAC and duct system cleaned regularly, many of your air quality problems will solved.
Stay tuned for part 2 of our blog series and learn more about how to purify the air in your home and how you can enjoy fresh air. If you are ready to enjoy fresh air, but need new window screens, a new screen door, or custom screen solutions, shop Metro Screenworks online! We offer air-purifying window screens that can help you get all the benefits of fresh air without the allergies. We also offer rolls of window screen so you can screen your windows or your screen door the way you want. However, we do offer pre-assembly options as well. Shop our store online and get custom window screen and screen door solutions for your home, business, and clients!