Window screens aren't something that we think that much about until they don't work or we don't have any protection from insect pests. Even though traditional screens don't utilize advanced technology, the effects that they have had on modern society is profound. Illnesses that have been spread by insects, rodents, and other pests have nearly been eradicated or can't wipe out entire towns like they did in the early days of American history. This is all due to window screens and screen doors.
So what do you do if your screen isn't working like it used to or you want to get more from your screen than just keeping the bugs out? Your screens can provide additional benefits like UV protection, allergy protection, additional security, and more. To learn everything you need to know about window screens, read today's blog. If you are ready to buy window screens or screen doors, shop Metro Screenworks — your online window screen provider offering both standard and custom screens.
Window Screen FAQs
If you have questions about your screens, we have the answers! Metro Screenworks specializes in all things screens, and unlike your local home improvement store that provides everything, we only offer screens. Here are the basics of what you need to know about window screens.
How much does it cost to replace window screens?
Do window screens come in standard sizes?
Can you buy replacement window screens?
Who sells window screens?
How do you rescreen a window screen?
Can you repair a window screen?

It depends. Because there are a variety of window screen types, the cost to replace your window screens will depend on:
How you choose to replace your screen
The type of window screen you select
How You Choose to Replace Your Window Screens
There are a couple of ways to replace your window screens:
Just replace the screen — keep the window screen frame
Buy a replacement window screen frame and replace the entire screen
If you choose to replace just the screen because the frame is still intact, you can buy just the screen — a screen roll — to rescreen the window yourself. We offer many types of screen in bulk rolls of various widths and lengths. Types of screen we offer in rolls include:

To learn more about our window screen rolls, visit our Screen Rolls Information page. When you choose to install just the screen, you will also need hardware, tools, and other installation parts. We have everything you need on our site to help you get the job done.
If you'd rather not get your hands dirty, we also offer complete window screens. You can buy our complete window screens in any size and with any window screen mesh. We also offer these complete window screens:
If you have a bunch of windows to rescreen, we also provide bulk orders of complete screens.

Yes and no. For certain areas of your home, you can expect a certain size of window screen. However, usually the size of your window screen depends on the maker of the window and where it is installed. The best way to find a replacement window screen is to measure it yourself. You can replace your current window screen by simply measuring the screen frame.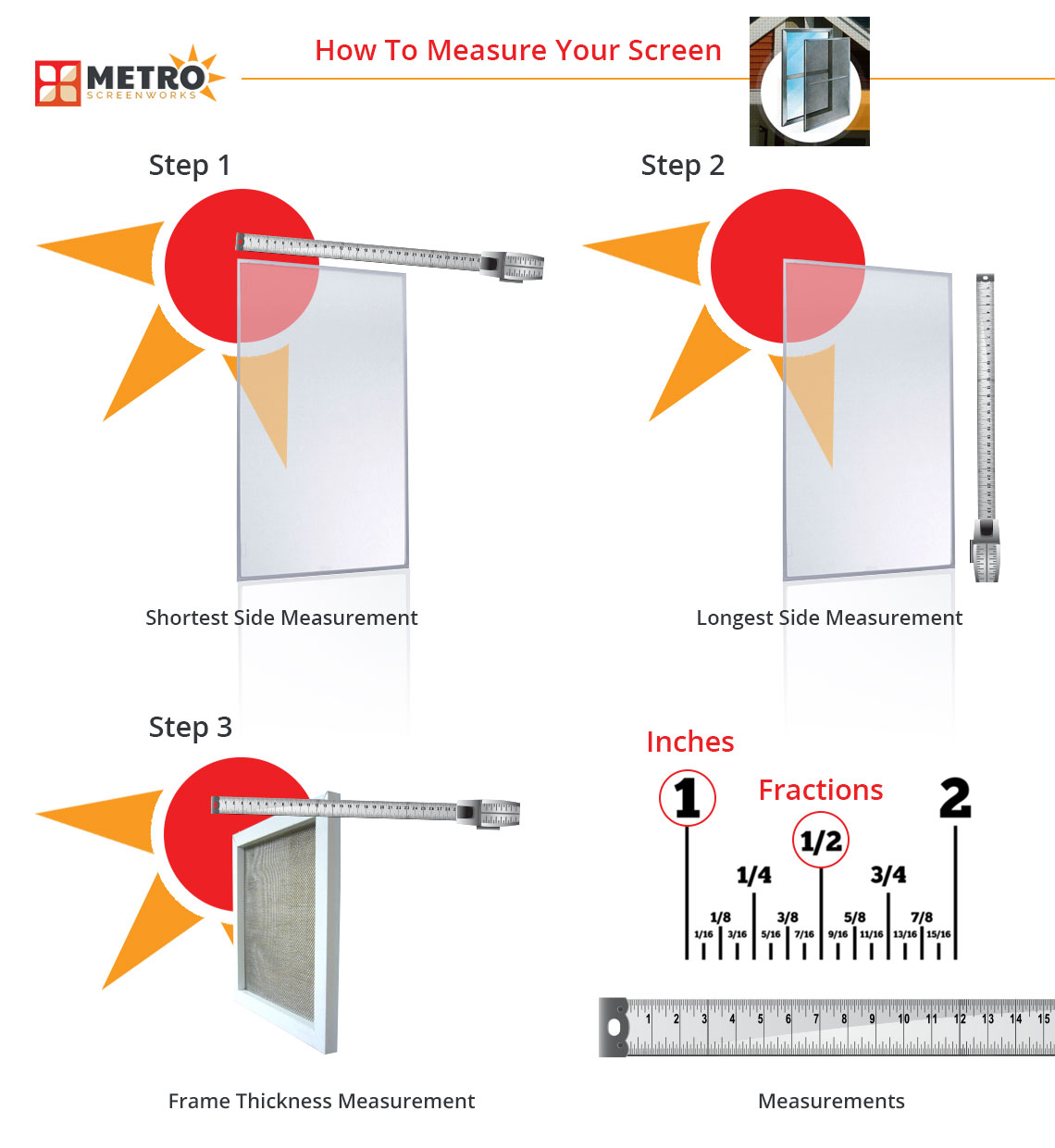 If you don't have the original window screen frame or your window didn't come with a screen, you will need to measure your window to order the right size of replacement window screen.
To learn more about how to measure for window screens visit our Measuring FAQ page. However, the window screen experts of Metro Screenworks are always here to help you — contact us!

Yes! That is what our online store is all about: offering replacement window screen options. Buying the window screens that you need is easy. As we have already mentioned, we offer complete screens that allow you to easily pop a new screen into your window. However, we also offer everything you need to rescreen your windows yourself including:
Window screen frame
Spline
Window screen hardware
Window screen mesh
What's more, we offer a variety of specialty window screen materials that can allow you to get more out of your screens. Some of our most popular window screen types are
Pet screen - 7x stronger than traditional screen
Super screen - 3 x stronger than traditional screen
Pollen screen - filters out pollen and other pollution
Solar screen - blocks 65%-90% UV rays
Security screens - provides extra security
And more

You can find window screens or window screening materials at nearly any home improvement store and online. However, Metro Screenworks is the Top Rated National® window screen retainer for over 40 years, with quality guaranteed, a nearly perfect Google review rating, and the help you need to get your project completed. If it's a screen, we have it. Shop our website, and see for yourself!

To rescreen a window, you first need to remove the old screen and spline and other hardware that needs to be replaced. Then measure the window screen frame to determine how much screen you will need. You will need a piece of mesh larger than the opening of your frame — we suggest cutting a piece of screen a few inches bigger than your measurements. You will also need new spline as well as new hardware (if the old hardware is broken or unusable), and screening tools.
Supply List
Spline
Window screen hardware
Screen mesh

Installation
Once you have all the materials needed to install your window screen, you can begin creating your new screen:
Place the mesh on the frame
Using a roller tool, press the spline into the slot keeping the screen taunt
Trim the extra screen
Using screen frame hardware, install the screen into the frame
And you're done!

If there is a small hole in your window screen, you can mend it, depending on the material it is made out of and the size of the hole. One way to mend your window screen is to use fishing line and sew it to gently pull the intact fibers together to close the hole.
Check out our FAQ page, Measuring FAQ page, and our Window Screen FAQ page to learn everything you need to know about window screens and ordering from Metro Screenworks!