Roll Up Solar Shades
Why Roller Shades Are Right For You
Managing sunshine and glare can be a difficult task in both your home and commercial office. We all enjoy the natural sunlight that brightens up our rooms, but can't bare the glare it creates on our computer screens and televisions. Many find it hard to protect their furniture and flooring from fading in the sun's harmful rays, but still don't want to give up our beautiful view of the outside. And let's not forget the uncomfortable heat the sun causes during midday! Many have found that Solar Shades are the answer to these problems.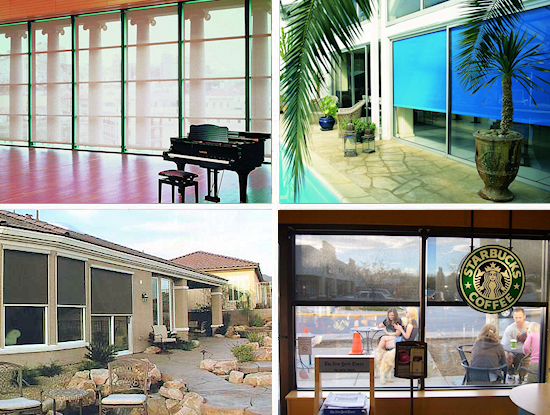 Solar Shades are the Solution!
Solar Screen is designed to filter natural light rather than block it out completely. It effectively reduces heat gain, prevents hot and cool air loss, and helps to eliminate glare. While Solar Shades provide substantial protection against fading, Solar Shades still preserve an outside view.
How Roller Shades Operate

Roller Shades have a continuous, manual pull cord that is used to roll them up and down. They are rolled up exposing a room to sunlight or pulled down, filtering light and harmful UV rays from entering a room. By pulling on the plastic or metal pull cord, the clutch will be engaged, thus allowing the Shade to be raised and lowered with ease. We also offer cordless Solar Shades! Using heavy duty RollEase components, you are sure to get years of satisfaction from your Solar Shades.
These Solar Shades can be used for interior or exterior application. Solar Shades can be used for your business (commercial Shades), home, porch, patio or anywhere else that you want to keep the sunlight and heat out.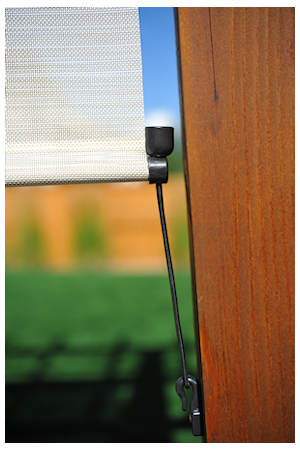 Rollup Solar Shades are manufactured in standard and custom sizes.
STANDARD SIZES: Widths are offered in 48", 60", 72" and 96" with the length being set at 72". The solar screen mesh that is used for these Solar Shades is 80% SunTex with color options of Black and Stucco (dark tan and light tan color that is interwoven).
CUSTOM SIZES: Rollup Solar Shades can be manufactured to the exact width and height that you need. There is a wide variety of solar screen mesh that you can choose from. We offer Phifer Greenguard Certified solar screen mesh with MicroBan technology that prevents mold and mildew from growing on the solar screen mesh!
Solar screen mesh is also available in a fixed panel option that can be installed over your windows or porch. Click here for more info.